H3Z4518CS-MPIR - Computar 1/2" 4.5-13.2mm Varifocal IR 3 Megapixel Lens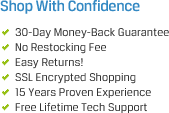 Related Categories
The Computar H3Z4518CS-MPIR is a professional grade cs-mount 1/2" 3 megapixel lens that features a 4.5-13.2mm focal length, IR correction for True Day/Night capability, and precision all glass optics to ensure minimal distortion. The H3Z4518CS-MPIR is the ideal lens for 3 megapixel IP surveillance applications.
If you are using megapixel IP cameras in your surveillance system is critical that you use the correct lens to support your applications. The H3Z4518CS-MPIR 3 megapixel lens allows you to take full advantage of the performance of your 3 megapixel IP surveillance cameras.
Cabling Plus is an authorized distributor of the entire line of Computar high performance lenses. Computar offers over 200 state-of-the-art lens products giving you the flexibility needed to get the precise angle of view for every application.
Includes: (1) H3Z4518CS-MPIR 1/2" 4.5-13.2mm Varifocal IR 3 Megapixel Lens
3 Megapixel Lens
3X 4.5-13.2mm F1.8
1/2" Format, CS Mount
IR Corrected for True Day/Night
Locking set screws on zoom, focus, and iris rings
Precision all glass optics ensure minimal distortion
CE Compliant
Part#: H3Z4518CS-MPIR