YCH-04 KIT 2 - Ganz YCH-04 Camera w/TG4Z2813FCS Lens & CMB-1A Bracket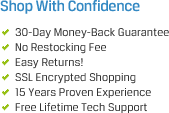 Related Categories
The Ganz YCH-04 KIT 2 includes the Ganz YCH-04 Digital Day/Night 540 TVL CS Mount Camera, Computar TG3Z2910FCS Varifocal Auto-iris DC Lens, and the CMB-1A wall mount bracket to give you a complete plug and play security camera kit for indoor surveillance applications. 
The included Ganz YCH-04 box camera is a dual voltage (12VDC/24VAC) camera that offers Digital Day/Night capabilities, advanced backlight compensation with highlight masking, 540 lines of resolution, and a 1/3" CCD interline image sensor.
The Ganz YCH-04 KIT 2 also includes the Computar TG4Z2813FCS Lens which is a 2.8 to 12mm Auto-iris DC Varifocal Lens which will ensure high quality viewing in even the lowest light environment.
Kit includes CMB-1A bracket which offers total flexibility to mount the camera system on any wall or ceiling like surfaces.
Includes: (1) YCH-04 KIT 2 Security Cameras Kit
YCH-04 1/3" Digital Day/Night camera provides color images during the day and B/W images at night
Minimum illumination of 0.19 lux sensitivity at F1.2/20IRE
12VDC/24VAC auto-sensing dual voltage with line phase adjustment
Advanced backlight compensation with highlight slicing
Switchable On/Off Day/Night function
Includes Computar TG4Z2813FCS Lens: 2.8mm to 12mm Auto-iris DC Varifocal Lens
Includes CMB-1A indoor bracket
UL listed
Part#: YCH-04 KIT 2