IRL-M6-POE - Ganz Outdoor 60 Degree POE Infrared LED Illuminator, 115ft Range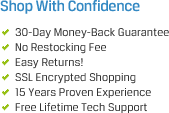 Related Categories
The Ganz IRL-M6-POE is a medium range IR illuminator designed to provide dedicated lighting for IP cameras via PoE+ (High Power over Ethernet) enabled network infrastructure. The IRL-M6-POE is vandal-resistant and IP67 rated with all-weather lights that are designed to handle a variety of security applications. It uses efficient LED technology that combines extremely long bulb life with low power consumption.
The IRL-M6-POE provides a 60 degree illumination with a 115ft range of coverage. It supports 24VAC, 12VDC, and POE power types, and uses 850nm wavelength technology ideal for use with both IP security cameras.
The Ganz IRL-M6-POE 115ft Range Infrared LED Illuminator includes: Anodized Aluminum Construction, Pressure Equalization Vent, SMT LED Technology, Automatic Photocell, and Stainless Steel Wall Mount Bracket.
Includes: (1) IRL-M6-POE 60 Degree 115ft Range POE Infrared LED Illuminator
SMT LED technology
850nm wavelength
Automatic photocell
12VDC /24VAC/POE Input
IP67 rating for all weather outdoor performance
Built-in photocell Infrared on/off on top of unit
Photocell following contact
Telemetry input for remote switching on all models
60 degree beam angle
Anodized aluminum construction
Pressure equalization vent
Pots for adjusting photocell and illumination
Supplied with stainless steel wall mount bracket
Dimensions: 2.7" x 4.4" x 3"
5 year warranty
Part#: IRL-M6-POE