HWB2-28RA9 - Ganz Pro-Pak Kit w/Housing, ZC-NH405N True D/N Camera, & Lens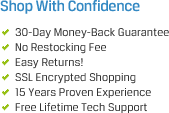 Related Categories
The Ganz HWB2-28RA9 is a complete mount, plug, and play outdoor CCTV camera kit that features the Ganz ZC-NH405N True Day/Night 540 TVL CS Mount box camera, Computar TG4Z2813FCS-IR Varifocal DC Auto-iris infrared lens, and the HWB-2 outdoor camera housing and mount. The HWB2-28RA9 is a complete kit designed to support all outdoor surveillance applications. This professional grade CCTV camera kit will save you time and money on site since there is no need to install or source any extra components. The camera and lens are pre-installed in the housing so all you have to do is mount the system and plug in the power and video cables. 
The included Ganz ZC-NH405N box camera is a dual voltage (12VDC/24VAC) super high-resolution camera that offers True Day/Night capabilities, on-screen programming, 6 pattern backlight compensation, highlight masking, 540 lines of resolution, and a 1/3" Ex-View IT CCD image sensor. The HWB2-28RA9 Pro-Pak Kit includes a pre-installed Computar TG4Z2813FCS-IR lens which is a 2.5mm to 12mm Auto-iris DC Varifocal infrared lens that supports high quality CCTV images in all low light applications.
The Ganz HWB2-28RA9 Pro-Pak Kit offers both the box camera and the lens pre-installed in the HWB-2 outdoor housing with mount. The HWB-2 housing offers a compact attractive design, slide-off cover for easy access, included wall mount bracket, and built in 24VAC 15 watt heater.
Includes: (1) HWB2-28RA9 Outdoor Security Cameras Kit
True Day/Night Camera, Hi-Res (540 lines), Auto Iris
Computar TG4Z2813FCS-IR 2.8 to 12mm Infrared Auto-iris DC Varifocal lens
Compact, attractive design for indoor or outdoor use
Slide-off cover provides full accessibility to camera for quick installation and service
Optional sunshield, ceiling and pole mount
Rugged aluminum housing suitable for all weather conditions
All lenses are back-focused and five feet of outdoor rated power and video cable are included
Part#: HWB2-28RA9