HWB-2 - Ganz Outdoor Security Camera Housing with Wall Bracket & Heater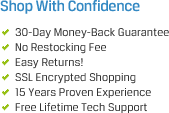 Related Categories
The Ganz HWB-2 is a professional grade outdoor security camera housing that includes a 24VAC heater to support the installation of security cameras in cold environments. The HWB-2 is designed to house most common box style cameras in outdoor security camera installations.
The HWB-2 features a rugged aluminum construction, compact design, and a slide-off cover that provides full access to the camera for easy maintenance and a quick installation. It comes with a wall mount pre-installed so there is no need to spend time searching for a separate wall bracket. This is the ideal security camera housing used to combat even the toughest environmental conditions!
Note: Since the heater requires 24VAC it is recommended to only use 24VAC cameras with HWB-2 housing.
Includes: (1) HWB-2 Security Camera Housing with Wall Bracket & Heater
Compact, attractive design
Includes 24VAC heater
Slide-off cover provides full access to camera for quick installation
Rugged aluminum housing suitable for all weather conditions
Accepts most common cameras with varifocal lenses
UL, CE, and RoHS Compliant
Part#: HWB-2