FP-LF - VMP Univ. Large Flat Panel Flush Mount, 42" to 63" Displays, Silver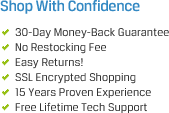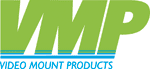 Related Categories
The VMP FP-LF is a fixed, flat panel wall mount that can handle most displays 42" to 63". The unit is easy to install, has a heavy load capacity of 180 lbs., mounts less than 2" off the wall, and comes with a silver powder coat finish. The rails of the FP-LF can slide left to right for perfect flat panel placement. The VMP FP-LF TV wall mount includes all mounting hardware needed for a successful installation.
Don't make the mistake of mounting your new flat panel display with poorly made TV wall mounts! This professional grade flat panel flush mount bracket is made with the best quality metals and offers a lifetime warranty!
All required mounting hardware is included for a successful installation.
Includes: (1) Large Flat Panel Flush Mount with Mounting Hardware
Holds most 42" - 63" flat panels
Distance from wall to the back of the flat panel: 1.4"
Maximum flat panel hole pattern: 850mm x 500mm
Accommodates double gang box
Load capacity: 180 lbs
Silver powder coat finish
Part#: FP-LF