DWC-P39PM - Digital Watchdog Pendant Mount Bracket for the DWC-PTZ39X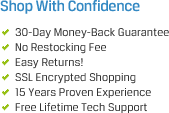 Related Categories
The Digital Watchdog DWC-P39PM is a pendant mount bracket designed specifically for the Digital Watchdog DWC-PTZ39X 39X Super Speed Dome Camera. It allows you to suspend the camera 15 inches from the ceiling in indoor and outdoor installations. The DWC-P39PM will connect directly to the top of the camera and has an external control board where all the cameras cable connections are made. The DWC-P39PM has an integrated wiring harness so the cameras connections are pre-wired in the bracket box.
The control board is protected in the DWC-P39PM mount and allows a fast and clean installation. The connections for the PTZ camera are stored in the mount where they are 100% protected from the weather and possible vandalism. The secured control panel also makes it much easier to install and maintain the camera once it is mounted. 
The Digital Watchdog DWC-P39PM Pendant Mount Bracket for the DWC-PTZ39X includes a 2 year warranty when purchased by an authorized distributor like Cabling Plus!
Includes: (1) DWC-P39PM Pendant Mount Bracket for the DWC-PTZ39X
For suspending the PTZ39X Camera from the ceiling
Sets the camera 15 inches from ceiling
Built in control board for PTZ connectivity
Design for use with the DWC-PTZ39X PTZ dome camera
Part#: DWC-P39PM