DWC-P12CMS - Digital Watchdog Outdoor Ceiling Mount for DWC-PTZ12X PTZ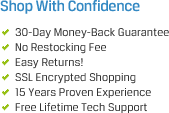 Related Categories
The Digital Watchdog DWC-P12CMS is an outdoor sunshield ceiling mount designed for use with the Digital Watchdog DWC-PTZ12X PTZ speed dome camera.
The DWC-P12CMS attaches directly to the top of the DWC-PTZ12X and then to the ceiling so you can provide an outdoor ceiling mount solution for your PTZ camera. The DWC-P12CMS is used so you can mount your DWC-PTZ12X camera to an outdoor ceiling while also bringing it down lower from the ceiling to a better more desirable location. It features and integrated sunshield to give the DWC-PTZ12X extra protection from sunlight.
The DWC-P12CMS provides a cable channel in the mount that allows you to secure and protect your cables. It is designed for all outdoor applications in warehouses, or large commercial buildings. It can be mounted to any ceiling surface.
---
Related Products