DWC-D3263TIR - Digital Watchdog 2.1 MP Universal HD Indoor Dome Camera with IR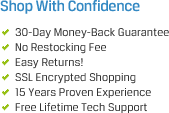 Related Categories
The DWC-D3263TIR is a Universal Camera! It will work with all HD-TVI, HD-CVI, and older analog DVR's.
The DWC-D3263TIR also comes with a 5 year warranty when purchased from an Authorized Digital Watchdog Distributor like Cabling Plus!
The Digital Watchdog DWC-D3263TIR 2.1MP Universal HD over COAX® cameras deliver crystal-clear images and support real-time 30fps HD-Analog, HD-TVI, HD-CVI and all analog signals to 960H. STAR-LIGHT™ Universal HD over COAX™ cameras are engineered to work with our VMAX A1™ Universal HD over COAX™ DVRs using your existing coax infrastructure for a cost-effective, high resolution surveillance solution.
Universal HD Coax® Technology supports All HD-Analog and All Analog to 960H
The Universal HD® Complete Solutions are the best way to upgrade an existing analog solution to high definition. Universal HD supports HD-Analog, HD-TVI, HD-CVI and CVBS analog signals to 960H.
Star-Light™ Super Low Light Technology
Star-Light™ Technology provides crisp clear images in both color and Black and White in extreme low light conditions. Star-Light technology offers a slow shutter feature that increases the length of time the
shutter remains open to collect additional light, illuminating typically dark environments. The technology also utilizes Digital Noise Reduction and Highlight Masking Exposure to enhance the image clarity, offering a clear image in any lighting condition.
Smart IR™
Smart IR™ adjusts the image for IR cameras to eliminate LED light reflection and white spots in the image. By breaking down the camera's field of view into five zones, Smart IR allows for even distribution of the IR light. This prevents excessive illumination on images that are in the front of the scene and offers a clear image in B/W without any loss of detail.
Includes: (1) DWC-D3263TIR 2.1 MP Universal HD Indoor Dome Camera with IR
Universal HD over Coax® Technology with HD-Analog, HD-TVI, HD-CVI and all Analog to 960H Signal Support
STAR-LIGHT™ Super Low Light Technology
2.1MP 1/2.7" Image Sensor at Real-time 30fps
2.8~12mm Varifocal P-Iris Lens
Digital Wide Dynamic Range (D-WDR)
OSD Control Via Coaxial (UTC)
100' Smart IR™ with Intelligent Camera Sync.
Smart DNR™ 3D Digital Noise Reduction
True Day/Night Mechanical IR Cut Filter
De-Fog™ Extreme Weather Image Compensation
Highlight Masking Exposure (HME)
Programmable Privacy Zones
Auto Gain Control (AGC)
Backlight Compensation (BLC)
Auto White Balance (AWB)
5 Year Warranty
Part#: DWC-D3263TIR