DW-VAONE42T - Digital Watchdog A1 4 Channel Digital Video Recorder, 2TB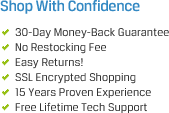 Related Categories
The Digital Watchdog VMAX A1 All-In-One Video Recorders will work with all Digital Watchdog AHD Cameras, and all other brands of 960H Cameras, TVI Cameras, and those older traditional Analog CCTV Cameras. Meaning they are backward compatible with your older CCTV cameras. Use the VMAX A1 DVR to take your current CCTV system to the next level! This is why Digital Watchdog calls it the All-In-One Video Recorder!
The Digital Watchdog DW-VAONE42T VMAX AHD 4 Channel Digital Video Recorder is a professional grade high performance digital video recorder. It offers real-time HD monitoring and recording up to 120fps Recording at D1, 960H and 720p, and 60fps Recording at 1080p.
The DW-VAONE42T is 100% networkable, and is MAC and Microsoft Windows Compatible. The FREE mobile viewing application is also compatible with all An Android and iPhone mobile products. The VMAX A1 DVR's come with FREE Central Management Software and all is loaded and ready for a fast plug and play installation. There is no doubt why Digital Watchdog makes the #1 video recorder on the market!
The DW-VAONE42T VMAX A1 supports analog signals up to 960H, TVI and Analog High Definition (AHD) signals, leveraging the robustness of analog signal infrastructure for a seamless upgrade to the detail and clarity of 1080p high definition resolution. It allows you to use your existing coaxial cable infrastructure to get full HD surveillance video. Now you can take your surveillance system to the next level without a huge investment!
The DW-VAONE42T gives you 4 video channels to support 4 video cameras. It also provides 2 terabytes of storage.
Buy Digital Watchdog DW-VAONE42T VMAX A1 4 Channel Digital Video Recorder from an Authorized Digital Watchdog Distributor like Cabling Plus and get a 5 year warranty!
The Digital Watchdog DW-VAONE42T VMAX A1 4 Channel Digital Video Recorder features:
Compatible with all Analog, TVI and AHD (1080p via Coax) Resolutions
Pivot™ Central Management Software, Up to 128CH
Mobile Application for iPhone, iPad, iPod, Android Smart Phones and Tablets
MAC Compatible Remote ACS Software
Intuitive Graphical User Interface (GUI)
HDD Calculation and Auto Recording Configuration
Event Notifications via Email, Text and Pivot™ CMS
Advanced H.264 Embedded DVR
Multiplex - Live, Playback, Recording, Backup, Network, Configuration
120fps Recording at D1, 960H and 720p, 60fps Recording at 1080p
1 Audio Input, 1 Audio Output
4 Sensor Input, 1 Relay Output
16-Channel Looping Output (DW-VLOOP Not Included)
Simple & Free DDNS Service
Easy Web-Based Client with Multi-User Access
Help Menu on Major Functions
Auto & Manual Firmware Upgrade Available
5 Year Limited Warranty
Includes: (1) DW-VAONE42T VMAX A1 4 Channel Digital Video Recorder 2TB
Video Input: 4 Channels
Video Signals Supported: Analog Signal up to 960H, AHD, TVI
Video Live Frame Rate: 1~30fps
Resolution: 1080p, 960x480, 960x240, 480x240
Video Output: HD Output, VGA
Audio Input: 1 Input
Audio Output: 1 Output
Audio Codec: PCM
Alarm Sensor Input: 4 Input
Alarm Out: 1 Output
Operating System: Embedded Linux
Serial: 1x RS485 for PTZ Camera & Controller, 2xUSB 2.0
User Interface: Menu Display - Graphical User Interface (GUI), Control Methods: IR Remote Control, USB Mouse
Screen Display Mode: 1, 4, 9, 16 Sequence
Screen Resolution: 1920x1080P, 1280x1024, 1024x768
Recording Compression: H.264
Recording Mode: Schedule, Event, Time-Lapse, Panic, Continuous, Pre & Post Event, Motion, Recording Configuration per Channel
Pre Recording: 1~5 Seconds
Post Recording: 5~15 Seconds
Recording Rate: 120fps Recording at D1, 960H and 720p, 60fps Recording at 1080p
Recording Resolutions: All analog resolutions up 960H, AHD 720p and 1080p
Playback Rate: Up to 30fps per Channel in Single-Channel View Mode, Up to 15fps per Channel in Multi-Channel View Mode
Playback Resolution: All analog resolutions up 960H, AHD 720p and 1080p
Fast Forward Functions: x1/16, x1/8, x1/4, x1/2, x1, x2, x4, x8, x16, x32
Playback Functions: First Data, Last Data, Date/Time, Record Table, Calendar, Bookmark, System Log
HDD Interface: 2 HDD
Max. Internal HDDs: Up to 12TB (2HDD x 6TB)
External Storage: USB Flash Drive, USB HDD, DVD
HDD Interface Type: SATA-II, SATA-III
HDD Health Check: Temperature, S.M.A.R.T. with E-mail Notifications
Camera Color Control: Brightness, Contrast, Saturation, Hue
Digital Zoom: Yes (Live)
Software Upgrade: USB Flash Drive, Network Upgrade, FTP Remote Upgrade
Mobile Client Mobile: App for Apple & Android Smart Phones & Tablets
Covert Channel: Yes (Live & Playback)
Network Connection: Ethernet (1 xGigabit 10/100/1000 Gpbs)
Maximum User Connections: 10 Simultaneous Connections
Streaming Transmission Speed Live 480fps @ 960H, D1 and 720p, 240fps @ AHD 1080p
Protocols: Static, DDNS, DHCP, uPnP, RTSP
Access: Web Viewer Live, Playback, & Configuration up to 10 Multiple Connections
Client Monitoring Software: MAC (Apple S/W), Pivot (CMS S/W)
Operating Temperature / Humidity: 5 ~ 40°C (41 ~ 104°F), Less than 80% (Non-Condensing)
Electrical Power Requirement: 12V DC
Power Consumption: 60W
Dimensions: 14.17 x 14.01 x 2.60 inch(360 x 356 x 66mm)
Weight: 9.83lbs(4.46 KG)
Part#: DW-VAONE42T