DW-TP-500G - Digital Watchdog Transporter 4 Channel Mobile DVR, 500GB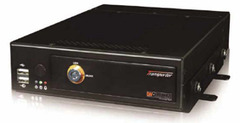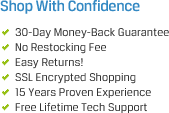 Related Categories
The Digital Watchdog DW-TP-500G Transporter is a mobile DVR designed to provide a cutting edge for mobile recording solutions. It is perfect for any type of transportation security applications. This Mobile DVR was built upon industrial specifications that offer the most reliable mobile solutions. The industrial specifications allow the DVR to withstand any harsh conditions, such as shock, vibration, and temperature. The DW-TP-500G allows you to enjoy the peace of mind from the most reliable in-vehicle technology.
The DW-TP-500G is a 4 channel H.264 mobile DVR that includes a 500GB hard drive installed. It supports 30fps at D1, and 120fps at CIF recording to ensure high quality video in all mobile security applications. The DW-TP-500G supports wireless communication, GPS tracking, automatic collision recording, break down verification, and acceleration detection.
Additional features: One Touch Video Backup, One Touch Reverse Playback, Web-Based Client w/ Multi-User Access, Automatic Private IP Addressing, Simple & Free DDNS Support, NTP (Network Time Protocol), Watermark Verification, Network Bandwidth Control, Configuration Import/Export, E-mail Event Notifications, Central Management Software up to 64 Channels, and much more...
The Digital Watchdog DW-TP-500G Transporter 4 Channel Mobile DVR includes: DVR unit, harness and terminal block, monitor cable, power cable, pre-loaded software, free Blackberry, iPhone, and 3G phone apps., USB mouse, IR Remote Control, Free DNS, User Manual, GPS Antenna, Bracket Screws and Keys, and 3 year warranty when purchased by an authorized distributor like Cabling Plus.
Includes: (1) DW-TP-500G Transporter 4 Channel Mobile DVR, 500GB
Advanced H.264 Linux Embedded DVR
Multiplex: Live View, Remote Playback, File Backup, Email Notification
30fps at D1, 120fps at CIF
4Ch Video / 4Ch Audio Recording
4 Sensor Input, 1 Sensor Output
G-Sensor Technology: Automatic Collision Recording, Unusual Breaking Verification, Acceleration Detecting
GPS Driven by Google Map: Vehicle Location and Traveled Route Detail; Verifies Time and Date with Free Mapping CMS
Wireless Communication Access any Transporter via External Wireless Bridge or Wireless Mobile Router
One Touch Video Backup
One Touch Reverse Playback
Web-Based Client w/ Multi-User Access
Automatic Private IP Addressing
Simple & Free DDNS Support
NTP (Network Time Protocol)
Watermark Verification
Network Bandwidth Control
Configuration Import/Export
E-mail Event Notifications
Central Management Software up to 64 Channels
Support Blackberry, iPhone, and 3G Phone
USB Mouse, IR Remote Control GUI
3 Year Limited Warranty
Part#: DW-TP-500G