C235T - Digital Watchdog PIXIM Technology Box Camera, 540 TVL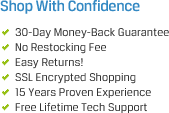 Related Categories
The Digital Watchdog C235T is a high performance box camera that offers exceptional wide dynamic range functionality and sensitivity for harsh lighting environments. The C235T offers 540 TVL imaging with its PIXIM chip that allows high quality crisp video in environmental conditions where most cameras fail. The C235T offers simple programming with an on-screen display and built-in joystick, and includes numerous features to ensure the best images and the highest resolution surveillance video.
The Digital Watchdog C235T features a durable professional design, and features Wide Dynamic Range, Smear Canceling Circuit, Auto Sensing 24 VAC/12 VDC with Line Lock, True Day and Night/IR Cut Filter, Ultra Low-Light Sensitivity, Auto Gain Control, Back Light Compensation, Digital Slow Shutter, and much more!
Pixim Technology: PIXIM's Digital Pixel System technology revolutionizes the way video cameras capture and process images. Unlike traditional cameras where each pixel cannot adjust to highlights and lowlights in the same scene, PIXIM's technology allows each pixel to self-adjust by acting like its own individual camera. The technology offers terrific image quality, giving users accurate and precise security information.
Includes: (1) DWC-C235T 540 TVL PIXIM Technology Box Camera
540 TV Line
CMOS Sensor / PIXIM Chip
On-Screen Menu Programming
Powerful Wide Dynamic Range
Smear Canceling Circuit
Low Power Consumption
Auto Sensing 24VAC / 12VDC with Line Lock
Ultra Low-Light Sensitivity
TDN (True Day and Night/IR Cut Filter)
AGC (Auto Gain Control)
BLC (Back Light Compensation)
AWB (Auto White Balance)
DSS (Digital Show Shutter)
Power Consumption: 12VDC: 1.8W / 24VAC: 2.4W
Certifications: CE, FCC, RoHS
Lens Sold Separately
Part#: DWC-C235T