DCR-2500 - Dakota Alert Duty Cycle Receiver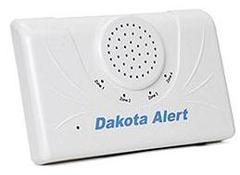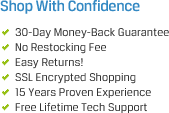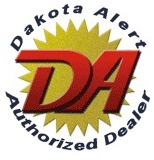 Related Categories
The DCR-2500 receiver is designed for use with all of the Dakota Alert 2500 series transmitters. It plugs into a standard wall outlet and can be placed on a table or mounted on the wall. When the receiver gets a signal from the transmitter one of 4 different tones (Classical, Westminster Chime, Ding Dong, Whistle) will sound for a few seconds. There is also a volume control on the DCR-2500 so you can set the sound to the desired level.
The DCR-2500 receiver is also equipped with 4 form "C" relays (one for each zone) and one 12 VDC output terminal that can activate when a signal is received. The receiver can be user programmed so the 12VDC terminal and relays will activate for 1 second, 10 seconds, 60 seconds or 10 minutes. The tones on the DCR-2500 will sound for several seconds.
The Dakota Alert DCR-2500 Duty Cycle Receiver includes: (1) Dakota Alert DCR-2500 Wireless Receiver and (1) 12V Power Supply. This unit is most commonly used to receive a signal from the DCPT-2500 Duty Cycle Probe Alert Transmitter.
PLEASE NOTE: The Dakota Alert 2500 series alarms DO NOT work with the Dakota Alert 3000 series.
Includes: (1) DCR-2500 Duty Cycle Receiver
Built-in volume control
LED Reminder Lights
Wireless Receiver
Output durations are adjustable
Receiver plays one of four different tunes selected at the transmitter to differentiate zones
Offers a 5 minute exit delay
Frequency: 433.92 MHz
Operating Voltage: 12VDC - Power Supply Included
Relay rating: 24VDC at 3 Amp
Range: 2500 Feet (1/2 Mile) Line of Sight
Part#: DCR-2500