TG4Z2816FCS-MPIR - Computar 1/3" 2.8-12mm IR DC Auto Iris Megapixel Lens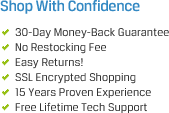 Related Categories
The Computar TG4Z2816FCS-MPIR is a CS-mount 1/3" Megapixel lens designed specifically for megapixel camera applications. The TG4Z2816FCS-MPIR offers a 2.8-12mm focal length, DC Auto Iris Type, and IR Day/Night capability. It is recommended for 1.3 megapixel sensor types.
The Computar TG4Z2816FCS-MPIR 1/3" 2.8-12mm Manual Iris 3 Megapixel Lens eliminates focus shift that occurs during night mode, features aspherical optics that provide excellent low light sensitivity, and includes locking set screws on zoom & focus rings
Cabling Plus is an Authorized Computar Lens Distributor!
Includes: (1) TG4Z2816FCS-MPIR 1/3" 2.8-12mm Manual Iris 3 Megapixel Lens
2.8-12mm F1.6 DC auto iris, megapixel IR compatible
Recommended for 1.3 megapixel sensor
Eliminates focus shift that occurs during night mode
Aspherical optics provide excellent low light sensitivity
Locking set screws on zoom & focus rings
Part#: TG4Z2816FCS-MPIR