MG3Z1228FC-MP - Computar 2/3" 13-36mm IR DC Auto Iris Megapixel Lens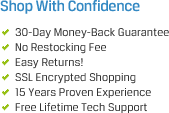 Related Categories
The Computar MG3Z1228FC-MP is a CS-mount 2/3" Megapixel lens design with an emphasis on the performance for close-up applications required in factory automation and image processing areas.
The MG3Z1228FC-MP offers a 13-36mm focal length with a DC Auto Iris Type. The MG3Z1228FC-MP features low distortion, assured excellent light intensity even in peripheral areas, and a robust design with built-in locking mechanisms for focus and iris.
Cabling Plus is an Authorized Computar Lens Distributor!
Includes: (1) MG3Z1228FC-MP 2/3" 13-36mm DC Auto Iris Megapixel Lens
3X 12-36mm varifocal F2.8
2/3" C Mount DC Auto-iris
Manual Iris version also available
Low Distortion
Assured excellent light intensity even in peripheral areas
Robust design with built-in locking mechanisms for focus and iris
Part#: MG3Z1228FC-MP