M1616FIC-MP - Computar 2/3" 16mm Manual Iris 5 Megapixel Lens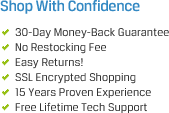 Related Categories
The Computar M1616FIC-MP 2/3" 16mm Manual Iris 5 Megapixel Lens is designed for precision megapixel applications in both security and industrial environments. The M1616FIC-MP supports a full HD format to ensure high quality imagery in 5.0 megapixel applications.
The Computar M1616FIC-MP 5 Megapixel Lens will attach to any security camera or factory automation equipment that supports a 2/3" C Mount attachment. The M0918FIC provides peak performance at long distances using a precision 16mm Manual Iris lens. The Manual Iris lens allows you to manually set the iris opening to a fixed position. Manual Iris lenses are most commonly used in areas where lighting conditions are consistently the same.
Cabling Plus is an Authorized Computar Lens Distributor! We offer the entire line of professional grade megapixel lenses.
Includes: (1) M1616FIC-MP 2/3" 16mm Manual Iris 5 Megapixel Lens
Over 5.0 Megapixel
Full HD Format
16mm 2/3" C Mount
Manual Iris
Manual Focus
Operation Range: F1:6 – F16C
Filter Size: M40.5 x 0.5
C-Mount
Maximum Aperture Ratio: 1:1.8
Maximum Image Format: 6.6mm x 8.8mm
Peak performance at long distance
Designed for ITS & Security applications
Part#: M1616FIC-MP