M0918FIC-MP - Computar 2/3" 9mm Manual Iris 5 Megapixel Lens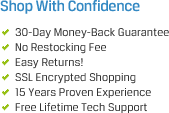 Related Categories
The Computar M0918FIC-MP 2/3" 9mm Manual Iris 5 Megapixel Lens is designed for precision megapixel applications in both security and industrial environments. The M0918FIC-MP supports a full HD format to ensure high quality imagery in 5.0 megapixel applications.
The Computar M0918FIC-MP 5 Megapixel Lens will attach to any security camera or factory automation equipment that supports a 2/3" C Mount attachment. The M0918FIC provides peak performance at long distances using a precision 9mm manual iris lens.
Cabling Plus is an Authorized Computar Lens Distributor!
Includes: (1) M0918FIC-MP 2/3" 9mm Manual Iris 5 Megapixel Lens
Over 5.0 Megapixel
Full HD Format
9mm 2/3" C Mount
Manual Iris
Manual Focus
Filter Size: M40.5 x 0.5
C-Mount
Maximum Aperture Ratio: 1:1.8
Maximum Image Format: 6.6mm x 8.8mm
Peak performance at long distance
Designed for ITS & Security applications
Part#: M0918FIC-MP