AG4Z1214FCS-MPIR - Computar 1/2.7" 12.5-50mm IR DC A/I 3 Megapixel Lens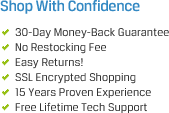 Related Categories
The Computar AG4Z1214FCS-MPIR is a CS-mount 1/2.7" 3 Megapixel lens designed specifically for 3 megapixel camera applications. The AG4Z1214FCS-MPIR offers a 12.5-50mm focal length, DC Auto Iris type, IR Day/Night capability, with a full HD format. It includes IR corrected optics, and corner brightness technology.
The Computar AG4Z1214FCS-MPIR 1/2.7" 12.5-50mm F1.4 3 Megapixel Lens ensures quality, performance, and precision viewing.
Cabling Plus is an Authorized Computar Lens Distributor!
Includes: (1) AG4Z1214FCS-MPIR 1/2.7" 12.5-50mm F1.4 3 Megapixel Lens
1/2.7" Format
3 Megapixel
12.5-50mm Varifocal
Full HD Format
DC Auto-iris
Precise Focus Adjustment
New Focus Lock System
IR Corrected Optics
Corner Brightness
Manual iris and P-iris models also available
Part#: AG4Z1214FCS-MPIR