A3Z3112CS-MPIR - Computar 1/2.7" 3.1-8mm IR Varifocal 3 Megapixel Lens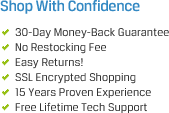 Related Categories
The Computar A3Z3112CS-MPIR is a professional grade cs-mount 1/2.7" Manual Iris Varifocal lens designed for use with Day/Night megapixel surveillance cameras. The A3Z3112CS-MPIR offers a 3.1-8mm focal length, Manual Iris, IR Day/Night capability, and high performance all glass optics. Its unique HD optical design provides larger image circle for exceptional brightness and clarity in corners and throughout image plane.
Simply mount the A3Z3112CS-MPIR lens onto any standard 3 megapixel camera to receive high quality video in any mission critical megapixel applications.
Cabling Plus is an Authorized Computar Distributor!
Includes: (1) A3Z3112CS-MPIR 1/2.7" 3.1-8mm IR Varifocal 3 Megapixel Lens
1/2.7" Format
3 Megapixel
3.1-8mm Varifocal
Full HD Format
Manual Iris
Precise Focus Adjustment
IR Corrected Optics
Corner Brightness
Part#: A3Z3112CS-MPIR