IR-5000 - Channel Vision All-in-One IR Control Kit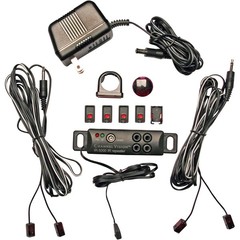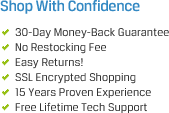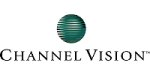 Related Categories
The Channel Vision IR-5000 is a complete IR (infrared) control kit used to manage home theater and audio video equipment. The IR-5000 allows you to control your audio video equipment even when they are hidden away in a closet, cabinet, or rack. It will make ensure your A/V component always receives commands and signals regardless of where you place your equipment. The IR-5000 lets you put all your equipment out of site and still have complete control.
To install the IR-5000 you simply mount the IR receiver next to or on your television using the included double-stick tape and various mounting holsters. Your IR signals will be delivered from the IR receiver to the hub, which routes the signal to the IR emitters. The emitters repeat IR signals to your A/V components and devices.
The Channel Vision IR-5000 includes an IR Repeater w/plasma-proof receiver, 2 dual IR emitters, power supply, instructions, and tabletop, receiver & emitter "holsters, and double sided tape mounting accessories. You have the ability to add up to two extra single or dual IR emitters to the IR-5000, which allows you to control a maximum or eight devices. Extra emitters are sold separately.
Includes: (1) IR-5000 All-in-One IR Control Kit
All in One IR Control Kit
Plasma, LCD, Sunlight Proof IR Receiver
Miniature Remote Head IR Receiver
4 IR emitters/flashers included (IR-3002)
Expandable to 8 emitters/flashers
Status LED's for power and IR signal indication
Versatile mounting accessories included
IR Pick up Range: 40 ft. @ 38kHz, 25 ft. @ 56kHz
Frequency Range 30KHz - 60KHz
Power supply included: 8-12 VDC
4 IR emitter outputs
Part# IR-5000