CH-001B - VMP Wall Mount Electronic Component Shelf, Black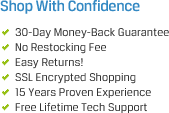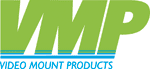 Related Categories
The VMP CH-001B wall mount component self is a stylish way to hold DVD players, DVR's, HD receivers, CD players, VCRs and gaming systems (Xbox 360, Playstation 3, Nintendo Wii). The mount can be used for a single device or "stacked" for use with multiple devices.
The VMP CH-001B Wall Mount Electronic Component Shelf includes a black tempered glass shelf, and can be used in conjunction with any TV wall mount to design an entertainment center. It has a load capacity of 25 pounds and is very simple to install.
The CH-001B includes all installation hardware needed for a successful installation.
Includes: (1) CH-001B Wall Mount Electronic Component Shelf
Can be used for holding a single device or "stacked" for multiple components such as DVD players, CD players, DVRs and HD receivers
Shelf dimensions – 13" W x 11" D
Black tempered glass shelf
Can be used in conjunction with any TV wall mount to design an entertainment center
Load capacity – 25 lbs.
Black powder coat finish
Dimensions: 13" x 12.65" x 9.05" (W x H x D):
Part#: CH-001B