Sav9D - Altronix 9 Output 12VDC CCTV Power Supply, 5 Amp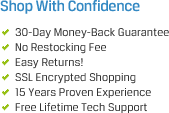 Related Categories
The Altronix Sav9D CCTV Power Supply provides 12VDC distributed via nine (9) Class 2 Rated PTC protected power limited outputs for powering surveillance cameras. It provides 5 amps over 9 outputs (.55 amps per device) for powering CCTV cameras in both commercial and residential applications. The Sav9D utilized PTC protected outputs which limits overcurrent conditions to ensure durability and reliability in the toughest environments.
The Altronix Sav9D CCTV Power Supply features filtered and electronically regulated outputs, short circuit and thermal overload protection, (9) power LED's to show proper operation, and a 3-wire line cord with integral strain relief.
The Altronix Sav9D CCTV Power Supply comes in wall mountable metal box with power cord. The metal enclosure features cable knock outs that are used to run the power cables coming from the security cameras directly into the box. It utilizes simple screw down terminals to connect power cables to each desired power output channel.
Includes: (1) Sav9D 9 Output 12VDC 5 Amp CCTV Power Supply
12VDC @ 5 amp output
Nine (9) Class 2 Rated PTC protected power limited outputs
2.5 amps per output current max
Input 115VAC, 60Hz, 1.5amp or 230VAC, 50Hz, .75 amp.
Filtered and electronically regulated outputs
Short circuit and thermal overload protection.
3-wire line cord with integral strain relief (115VAC)
Ease of installation saves time & eliminates costly labor
NEMA 1 Enclosure
Maintains camera synchronization
Nine (9) power LED's
Power ON/OFF switch
Dimensions: 8.5"H x 7.5"W x 3.5"D
UL Approved
cUL Approved
RoHS Compliant
Part#: Sav9D