R615DC1016CB - Altronix Rackmountable 16 Output 12VDC CCTV Power Supply, 10 Amp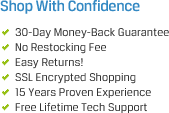 Related Categories
The Altronix R615DC1016CB is a Rackmountable CCTV power supply that provides 6-15VDC power distributed via sixteen (16) PTC protected Class 2 Rated power limited outputs. The R615DC1016CB delivers 10 amps over 16 channels (.625 amp per device, 2.5 amp max.) to support the power requirements of 12VDC CCTV cameras. It is perfect for powering (16) 12VDC security cameras, or heaters and other video accessories. The R615DC1016CB comes in a space saving 2U EIA 19" rack mount chassis that can be quickly installed into a rack environment. .
The Altronix R615DC1016CB Rackmountable 16 Output 10 Amp 12VDC CCTV Power Supply features 16 PTC protected outputs, DC power LED indicator, short circuit and thermal overload protection, illuminated power disconnect circuit breaker with manual reset, 3-wire grounded line cord, and removable terminal blocks with locking screw flanges.
The R615DC1016CB is perfect for all 12VDC rack mount CCTV power supply applications in the home or business. Rack mounting your CCTV power supply makes your connections easy to manage while giving your installation a clean professional look.
The Altronix R615DC1016CB Rackmountable 12VDC CCTV power supply features a 2 year warranty when purchased by an authorized Altronix distributor like Cabling Plus!
Includes: (1) R615DC1016CB Rackmountable 16 Output 10 Amp CCTV Power Supply
6-15VDC selectable output
10 amp of continuous supply current output
Class 2 Rated power limited outputs
Sixteen (16) PTC protected outputs
Output PTCs are rated @ 2.5 amp
115VAC 50/60Hz, .9 amp input
2U rack mount chassis for use in standard EIA 19" rack
Removable faceplate and sliding rear section for easy access
Short circuit and thermal overload protection
DC power LED indicator
Illuminated Power Disconnect Circuit Breaker with manual reset
Unit maintains camera synchronization
Removable terminal blocks w/locking screw flange
Ease of installation saves time and eliminates costly labor
UL and CUL Rated
Dimensions: 3.25"H x 19.125"W x 8.5"D
Part#: R615DC1016CB