ALTV2432600CB - Altronix 32 Output 24VAC CCTV Power Supply, 28 Amp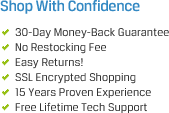 Related Categories
The Altronix ALTV2432600CB is an AC Wall Mount CCTV Power Supply that provides 24VAC or 28VAC distributed power via thirty-two (32) Class 2 Rated PTC protected power limited outputs for powering CCTV Cameras, heaters and other video accessories. The ALTV2432600CB is ideal for 32 security cameras in a CCTV system. It provides 28 amps (700VA) @ 24VAC to support the power requirements of 24VAC security cameras.
The Altronix ALTV2432600CB CCTV Power Supply features (32) PTC protected Class 2 Rated power limited outputs, surge suppression, AC power LED indicator, and power On/Off switch. The enclosure of the ALTV2432600CB is wall mountable and features 1/2" and 3/4" combination cable knockouts for running power cables into the box.
The Altronix ALTV2432600CB 32 Output 24VAC 28 Amp CCTV Power Supply is simple to install which eliminates costly labor. It utilizes simple screw down positive and negative terminals to attach power cables to the desired power outputs.
Includes: (1) ALTV2432600CB 32 Output 24VAC 28 Amp CCTV Power Supply
24VAC or 28VAC selectable output
28 amp @ 24VAC (700VA) or 10 amp @ 28VAC (280VA) supply current
Thirty-two (32) Class 2 Rated PTC protected power limited outputs
Output PTCs are rated @ 2.5 amp
115VAC 50/60Hz, 2.7 amp input
Surge suppression
AC power LED indicator
Illuminated Power Disconnect Circuit Breaker with manual reset
Unit maintains camera synchronization
Ease of installation saves time and eliminates costly labor
1/2" and 3/4" combination knockouts
Dimensions: 13.5"H x 13"W x 3.25"D
UL Approved
cUL Approved
RoHS Compliant
Part#: ALTV2432600CB