50-3331-WH-KIT - Datacomm Flat Panel Cable TV Organizer Kit, Small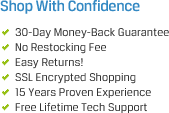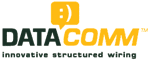 Related Categories
The Datacomm Electronics 50-3331-WH-KIT Flat Panel Cable TV Organizer Kit is a complete home theater plate solution designed to organize the HMDI and A/V cables connecting the TV and home theater components together. The 50-3331-WH-KIT allows you to conceal your cables behind the wall of your flat panel TV and give you installation a clean professional look!
The 50-3331-WH-KIT-N Flat Panel TV Cable Organizer Kit comes with a pair of recessed cable plates and a pair of wall mounting brackets. A typical installation has one wall cable installed behind a wall mounted flat panel TV and the other cable plate installed behind your entertainment center, equipment rack, or home theater components. Now you can connect your flat panel TV and home theater HDMI and A/V cables in the wall and out of sight. It's that easy!
This 50-3331-WH-KIT kit is designed for installations requiring only a few cables or wires. For installations requiring 4 or more cables or wires, use the larger size plates available in the Flat Panel TV Cable Organizer Kit (Medium). These complete home theater wall plate kits are great for organizing cables for flat panel TV's, computers, flat screen monitors, or other audio/video related products.
The 50-3331-WH-KIT Flat Panel Cable TV Organizer Kit includes everything needed for a successful installation: Two (2) Small Size (Single Gang) Recessed Cable Plates, Two (2) Single Gang Low Voltage Mounting Brackets, Mounting Screws, Installation Instructions
Includes: (1) Flat Panel Cable TV Organizer Kit - Small
Color: White
Installation instructions included
Part#: 50-3331-WH-KIT