200-030 - RG59 Coaxial Cable Crimp F Connector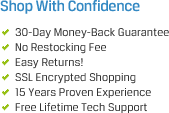 Related Categories
Use this crimp connector to terminate an F connector on the end of your RG59 coaxial cable. This F connector is designed to crimp on standard RG59 coaxial cable used for low power video applications.
RG59 coaxial cable is the most commonly used cable for low-power video signals in RF, CCTV, and home theater applications. After crimping this F connector to your RG59 cable you will be able to easily connect the cable to any devices that offer a standard F type post for video connection. Using crimp style connections are the most cost effective and easy way to terminate coaxial cables.
To terminate this crimp style connector we recommend using the 204-005 crimp style termination tool offered by Cabling Plus!
Includes: (1) RG59 Coaxial Cable Crimp F Connector
Commercial Grade F Connector
Designed for use with RG59 Coaxial Cable
Anti-Corrosion Nickel Plated Construction
Part#: 200-030