16-4 - 16 Gauge 4 Conductor 65 Strand CL3 Rated Speaker Wire, 500 ft, White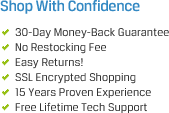 Related Categories
For project pricing and freight quotes on large wire & cable orders please call us now! 1-855-818-5556
A 16-4 speaker wire is commonly used in home theater or audio applications where you are wiring for two speakers, bi-wiring for one speaker, or implementing volume controls. This 4 conductor 16 gauge speaker wire gives you total flexibility when pre-wiring or doubling up conductors to support longer speaker wire runs. This professional grade 16-4 speaker wire type offers a CL3 rated jacket to support in-wall speaker wire installations. This 16/4 speaker wire is designed with a high strand count using 99% oxygen free copper. So you can rest assure you are getting a high quality speaker wire made with the best materials.
Are you confused about which gauge of wire you need? This 16-4 speaker wire is the ideal wire type to support speaker wire runs up to 60 feet. Once you surpass 60 feet you may want to look at a 14 gauge speaker wire or take the risk of under-powering your speakers. Picking the right gauge of speaker wire is the most crucial part of any successful speaker installation.
Includes: (1) 500ft box of 16-4 speaker wire
16 Gauge Speaker Wire
Made with 99.999% OFC Copper
UL TYPE: CMR & CL3
High-strand Bare Copper
Insulation: PVC
Part#: WAV-AC1604RWH - 16-4 Speaker Wire
What is a 16-4 speaker wire?
The 16 is describing the gauge or AWG (American Wire Gauge) of the wire used to manufacture each conductor of the cable. In a 16-4 speaker wire you have 4 conductors that are all made with 16 gauge wire. In a 16-4 speaker wire you have 4 conductors that are each in their own color coded PVC jackets. Then all 4 of the conductors are protected in a final over-all jacket. The end result is that you have 4 conductors bundled in a single cable that is easy to install and manage in an installation.
What is the purpose of a 4 conductor speaker wire?
The 16-4 speaker wire is most commonly used for running wire between a volume control and the amplifier, receiver, or audio head-end. In most installations there are two speakers attached to a volume control. This is usually done with a common two conductor speaker wire. Then from the volume control a 4 conductor speaker wire is used to home run those connections and the sound back to the audio equipment. Using a single 4 conductor cable is my easier to install then using separate 2 conductor cables. The 4 conductor speaker wire will also give your installation a much cleaner and professional look.
How do I attach a 16-4 speaker wire to a volume control?
Most volume controls have wire terminals that allow you to easily attach the speaker wire directly into them. All you have to do is strip the PVC jackets that are on each of the 4 conductors. Strip the jackets so you have about a ½" of bare copper showing. Then you can insert the copper conductors directly into the terminals on the volume control. There are no special tools needed, and the installation will take really just a few minutes.
Do I need an in-wall rated 16-4 speaker wire?
You do if you are installing the speaker wire in you wall and ceilings. We always recommend you follow your local building codes and use the right wire products that best support them. All of our speaker wire products are CL3 rated so you are guaranteed to get the cable you need for your installations. The last thing you want to do is create a hazard for your family.
What are some of the characteristics of your 16-4 speaker wire?
Our 16-4 speaker wire is a 16 gauge 4 conductor speaker wire. Each conductor has a color coded jacket that allows you to easily manage and organize your connections. Our 16-4 speaker wire has a high strand count of 65 strands which are made with 99.99% oxygen free (OFC) copper. Our 16-4 speaker wire is also CMR and CL3 rated which means it is verified for both residential and commercial (non-plenum) in-wall installations. We really feel we have chosen the 16-4 speaker wire that has all the vital characteristics needed in a professional grade product.