16-2 - 16 Gauge 2 Conductor 65 Strand CL3 Rated Speaker Wire, 500 ft, White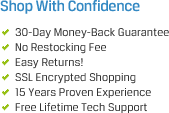 Related Categories
For project pricing and freight quotes on large wire & cable orders please call us now! 1-855-818-5556
A 16-2 speaker wire is the most commonly used speaker wire type for everyday speaker wire runs. A 16 gauge speaker wire is the ideal solution to support cable runs that are up to 60 feet long. This 16-2 speaker wire is 65 strand and is made with 99% oxygen free copper (OFC). It also features a jacket that includes a CL3 rating that ensures it is the right cable for in-wall installations. Due to the high strand count this 16 gauge speaker wire is flexible and less likely to be damaged during an installation.
Don't over-look the speaker wire quality when installing your home theater speakers! A poor quality speaker wire can heavily affect the sound quality of your system. The end result will be under-performing speakers with a poor sound quality. At Cabling Plus all of our 16-2 speaker wire products are manufactured with the best materials and quality assurance to ensure our customers receive a high performance speaker wire.
Includes: (1) 500ft box of 16-2 speaker wire
16 Gauge Speaker Wire
Made with 99.999% OFC Copper
UL TYPE: CMR & CL3
High-strand Bare Copper
Insulation: PVC
Part#: WAV-AC1602RWH - 16-2 Speaker Wire
What is the best distance to use the 16 gauge speaker wire?
The 16 gauge speaker is best for cable runs up to 60 feet. After 60 feet you may experience too much signal drop to adequately power your speakers. After 60 feet you may want to start looking at a 14 gauge speaker wire. Both 14-2 speaker wire and 14-4 gauge speaker wire are available to support your installation.
What does the 16 mean in 16-2 speaker wire?
The 16 is describing the gauge or AWG (American Wire Gauge) of the wire. This is the thickness of the wire. The smaller the gauge, the thicker the wire will be. A 16-2 speaker wire is made up of stranded copper. So there are numerous strands of copper put together to create the gauge or thickness of the wire. Our 16-2 speaker wire is a 65 strand speaker wire. So if you were to cut it open you would see 65 strands of copper woven together to create the 16 gauge it is measure at.
How do I attach a 16-2 speaker wire to my speakers?
Most speakers will have color coded binding posts that allow you to easily create the connections. First you have to strip the jacket off the conductors about an inch so all you have is the bare copper showing. Then the binding post will have openings where you can insert the copper conductors. Once they are inserted all you have to do is screw down the binding post causing it to clamp onto the copper. The binding post should be color coded black and red, and so should the speaker wire. So all you are really doing is matching colors and tightening screws. Installing a 16-2 speaker wire to your speakers can be done in a matter of minutes.
Is 16 gauge speaker wire the smallest gauge you offer?
Yes it is! Although there is 18 gauge speaker wire out there we do not offer it. The 16-2 speaker wire is the really the thinnest gauge you should ever install in a high quality home theater or surround sound system installation. Any smaller, and you make just be causing your speakers to under-perform.