14-4/P/Black - 14-4 Plenum Rated Speaker Wire, 500ft, Black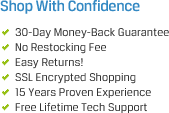 Related Categories
We offer the plenum rated Black 14/4 speaker wire required for commercial audio system installations. Plenum rated speaker wire is required in audio installations where wire is ran in a plenum open-air ceiling environment. It is important to understand your local building codes and install the right speaker wire to support them. The plenum rated 14-4 wire features a special compound in the jacket that combats burning and hinders the release of deadly toxins in the air if the wire is caught on fire.
Our 14-4 plenum speaker wire features a Black jacket, red, black, white, and green conductors, and an internal rip cord. All of our speaker wire is manufactured using 99.999% oxygen-free copper. This 14-4 plenum speaker wire is 300 volt rated and includes 4 color coded conductors.
Using 4 conductor speaker wire is very common in applications where speaker wire is ran from a volume control to an audio receiver or amplifier. Having 4 colored coded conductors makes organizing and identifying speakers much easier.
Includes: (1) 500ft box of Black 14-4 plenum speaker wire
14 Gauge 26 Strand Speaker Wire
Red, Black, White, & Green Conductors
Includes Rip Cord
Rated Voltage: 300
Rated Temperature: 75
Designed for plenum ceiling applications
Made with 99.999% OFC Copper
UL TYPE: CMP Plenum Rated
Part#: 14-4/P/Black