12-2/P/White - 12-2 Plenum Rated Speaker Wire, 500ft, White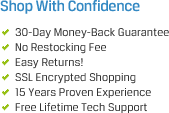 Related Categories
We offer the plenum rated 12/2 speaker wire required for commercial audio system installations. Plenum rated speaker wire is required in audio installations where wire is ran in a plenum open-air ceiling environment. It is important to understand your local building codes and install the right speaker wire to support them. The plenum rated 12-2 wire features a special compound in the jacket that combats burning and hinders the release of deadly toxins in the air if the wire is caught on fire.
Our 12-2 plenum speaker wire features a white jacket, red and black conductors, and an internal rip cord. All of our speaker wire is manufactured using 99.999% oxygen-free copper. This 12-2 plenum speaker wire is 300 volt rated and includes 2 color coded conductors.
12-2 speaker wire is one of the thickest gauge speaker wires made. It is most commonly used for longer than normal audio runs where signal loss could be an issue. The 12 gauge cable creates a bigger pipe with more surface area for a signal to travel.
Includes: (1) 500ft box of 12-2 plenum speaker wire
12 Gauge 65 Strand Speaker Wire
Red and Black Conductors
Includes Rip Cord
Rated Voltage: 300
Rated Temperature: 75
Designed for plenum ceiling applications
Made with 99.999% OFC Copper
UL TYPE: CMP Plenum Rated
Part#: 12-2/P/White