Lutron Green - Universal Keypad Control Cable, 1000ft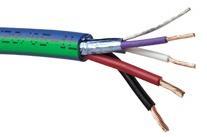 Related Categories
The Lutron Green Cable (GRX-CBL-346S) is an 18 gauge 2 conductor and 22 gauge shielded 1 pair bundled control cable used to support various Lutron Lighting Systems applications. The Lutron Green cable is a universal control cable designed for use with Grafik Eye, Grafik Integral, and Homeworks Interactive System installations.
The Lutron Green (GRX-CBL-346S) control cable features a 300v rating and includes a non-plenum UL and CL3 rated jacket. The green stripe on this cable makes it easy to identify and label, plus it comes in a 1000ft easy to pull box.
This cable consists of 2 conductor 22 AWG insulated stranded bare copper, twisted pair, shielded with overall AL foil- low capacitance plus a 2 conductor 18 AWG insulated stranded bare copper, twisted pair, unshielded, and a TC drain with an overall PVC jacket. Cable includes SCP Cable Labeling System with sequential foot/meter markings, and room/zone/outlet designations for easy cable identification.
UL listed, NEC: CM rated, CEC: CMG FT4, UL 13 and 444, NEC Article 725 and 800. EU RoHS, CE. UL 1685 vertical tray.
This cable is also compatible with the AMX AXLink™ Systems.
Includes: (1) Lutron Green Key Pad Cable, 1000ft
Lutron GRX-CBL-346S Equivalent
Components: 18 AWG 2 Conductors + 22 AWG Shielded 1 Pair + Rip Cord
Insulation: PVC
Jacket: Blue with Green Stripe
Rated Voltage: 300v
Rated Temperature: 75 Degree C
Flame Test: FT4
UL and CL3 Rated
Part#: Lutron Green - GRX-CBL-346S
Lutron GRX-CBL-346S: 2 element composite cable, 2 conductors 18 AWG unshielded with polyvinylchloride insulation, 1 pair 22 AWG shielded with polyethylene insulation, constructed with stranded bare copper, and an overall polyvinylchloride jacket for data/communications and controls applications.
---
Related Products