ICMP6P6CRD - ICC Modular RJ12 Connectors, Round Stranded Cable, 100 Pack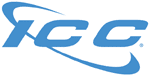 Related Categories
At Cabling Plus we understand how important it is to have the right modular connectors to do the job! It is important to choose the modular connectors that fit the telephone or network cable you are terminating. You also need to choose the connector that creates the connection you need to attach your cable to your network devices. Modular connectors are used every day to terminate cables that support the installation of computers, telephones, IP cameras, patch panels, or any other common devices that are being connected to a network.
The ICC ICMP6P6CRD modular RJ12 connectors are 6-position and 6-conductor plugs designed for use with round stranded network cable. The ICMP6P6CRD connectors are ideal for making custom telephone handset cords and telephone cables in voice network applications.
To terminate the ICC ICMP6P6CRD 6P6C Plug Modular Telephone RJ12 Connectors we recommend using the ICACSCT864 Universal 4, 6, & 8 Position Modular Plug Crimp Tool!
Includes: (100) ICMP6P6CRD Modular RJ12 Connectors
Designed for 6-position 6-conductor applications
For use with round stranded cord or cable
Ideal for custom handset cords or telephone cables terminations
Accepts 28-24 AWG stranded wires
Gold plated contacts provide reliable performance and long life
UL Listed
Part#: ICMP6P6CRD
---
Related Products