ICCMSSGR22 - ICC Swing Gate Wall Mount Rack, 20 RMS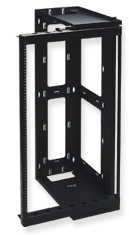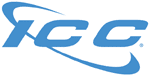 Related Categories
The ICC ICCMSSGR22 Swing Gate Wall Mount Rack is designed for installations where space is limited and the installation does not require and full sized stand-alone rack. A wall mount rack takes up very little space and can be mounted on almost any wall area.
The ICC ICCMSSGR22 Swing Gate Wall Mount Rack features 20 rack mount spaces to support numerous network components and devices. Its swing out design gives the installer or technician easy access to the back of the housed equipment. This makes terminations, new cable runs, and the maintenance of the network even easier. The ICCMSSGR22 has a 150 pound capacity and features numerous cable management points that can be used in an installation.
Most installers choose swing-gate racks because they are easy to mount, easy to manage, and the swing-gate makes moves, adds, and changes easier. Most networks are high maintenance so it is important to design your infrastructure in a way that you can easy work on it in the future. Once all your network equipment is installed on the rack it becomes the heart of your network systems.
The ICCMSSGR22 supports a standard 19" depth so it can support larger rack shelves and equipment. It comes with installation instructions and all the screws you need for a quick assembly.
ICCMSSGR22 Specifications:
Includes: (1) ICCMSSGR22 Swing Gate Wall Mount Rack
Designed with durable steel construction, black textured powder coated, supports up to 150 pounds of equipment
Designed with a 19" depth making it ideal for installing voice and data equipment such as patch panels, active components, shelves, drawers, and cable management products
Allows installers to swing the gate left or right after installation providing easy access to equipment
Ideal for installations with space limitations prohibiting the use of floor mount racks
20 rack mount space (RMS)
Used with all ICC rack mount products
Assembly instructions included
Part#: ICCMSSGR22
Cabling Plus is proud to be an Authorized ICC Distributor and Partner!
---
Related Products