ICCMSSGR21 - ICC Swing Gate Wall Mount Rack, 12 RMS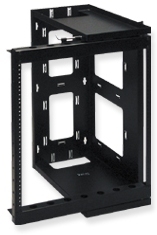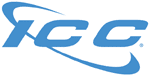 Related Categories
The ICC ICCMSSGR21 12 RMS Swing Gate Wall Mount Rack is an open wall-mount network rack that features a swing gate design to allow installers to swing equipment out once the equipment is mounted on the rack. The swing out design mechanism makes installation and maintenance easier than ever by allowing the installer to swing the equipment out where it is more accessible and easier to work on. The ICCMSSGR21 is perfect for installing a huge variety of network equipment in the home or business. Most people choose a wall mount rack solution because they take up less space and are perfect for areas where space is limited.
The ICC ICCMSSGR21 12 RMS Swing Gate Wall Mount Rack features numerous cable tie points and Velcro tie loops that can be used to neatly organize routed cable throughout the rack. It features a 150 lb. weight capacity that provides enough strength to hold heavy equipment. The ICCMSSGR21 supports a 19"depth and width to allow the installation of a wide variety of patch panels, active components, shelves, drawers, and cable management products.
The ICC ICCMSSGR21 Swing Gate Wall Mount Rack includes: (1) Main Rack Body, (1) Gate Assembly, (2) Hex Bolts, (2) Hex Nuts, (2) Retaining Washers, (2) Bushings, (35 Machine Screws, and Assembly Instructions. You get all the hardware you need for a fast and simple installation!
Includes: (1) ICCMSSGR21 Swing Gate Wall Mount Rack
Designed with durable steel construction, black textured powder coated, supports up to 150 pounds of equipment
Designed with a 19" depth making it ideal for installing voice and data equipment such as patch panels, active components, shelves, drawers, and cable management products
Creates a neat, structured, and organized cabling system
Allows installers to swing the gate left or right after installation providing easy access to equipment
Ideal for installations with space limitations prohibiting the use of floor mount racks
12 rack mount space (RMS)
Used with all ICC rack mount products
Assembly instructions included
Part#: ICCMSSGR21