ICCMSLST05 - ICC Runway Ladder Rack, 5 ft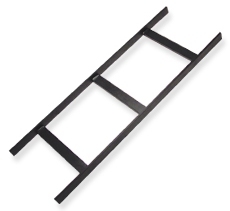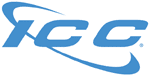 Related Categories
The ICC ICCMSLST05 5ft. Runway Ladder Rack is designed to manage and organize cables bundles as they come from the wall or ceiling, out to a network rack. The ICCMSLST05 ladder rack can be mounted in numerous different ways between a wall and rack using a huge variety of installation accessories. Once installed in place, the ICCMSLST05 is ideal for dressing and routing cables. Most professional installers will use Velcro straps or zip ties to neatly dress cables as they travel along the ladder rack. Using the ICCMSLST05 is the best way to neatly get network cables from the wall or ceiling out to the rack.
The ICC ICCMSLST05 5ft. Runway Ladder Rack is 12 inches wide and constructed using a durable steel construction with a black textured powder coated finish. The ICCMSLST05 is ideal for managing large quantities of cables in a network installation.
Includes: (1) ICCMSLST05 5 ft Runway Ladder Rack
Designed to support horizontal cable running overhead, providing an effective means to evenly distribute cable loads in the telecom closet and open architectural areas
Easy to configure modularized systems, designed to be compatible with all common cable management systems, for routing cables horizontally, vertically, or around obstacles
Use with all standard distribution and cable management racks
Installation instructions included
Part#: ICCMSLST05
Does the ICCMSLST05 5ft. Runway Ladder Rack come with any accessories?
No. It just comes as a straight 5ft piece of ladder rack. You will need to buy an extra ladder rack accessory component to create the connection you need between the rack, wall, or ceiling. There are numerous accessories available to support your network rack configuration.
What is the best way to organize cable bundles on a ladder rack?
There is no doubt that using Velcro wrap is the cleanest and best looking way to dress cables on a ladder rack. Using Velcro straps also makes future moves, adds, and changes much easier to perform. Since the cabling on a ladder rack is visible then using Velcro wraps will give you the professional look you want.
Can I cut ladder rack to best support my needs?
It is not uncommon for an installer to take a ladder rack piece and cut it to the length that best supports the needs of the installation. Most ladder rack pieces come in 5 and 10 foot lengths so if those lengths do not fit your needs then you can use a standard hack saw and cut the ladder rack to the length you need.
What kind of cables can I support using ladder rack?
In the past it was most common to see your standard cables like Cat5e, Cat 6, and fiber-optic cables dressed onto a ladder rack. But since almost every system is not networkable the cables that can be supported using ladder rack is really limitless. It really comes down to the architecture of your systems and the position of the equipment you use. The modem network is more robust than ever. It is not uncommon to see cables on a ladder rack that are specific to security, surveillance, video, sound, access control, and network systems. Using ladder rack to manage just about any cabling or wiring requirements is a plus!
Can I run power cables on a ladder rack?
Yes you can but you do not want to run them over or right next to your low voltage cables. It is best to separate the high power and low voltage cables. Since the ladder rack is 12 inches wide you have the room to run the power cables on one side of the ladder rack and the low voltage cables on the opposite side. This will give you the separation you need to ensure your network signals are not interrupted or inferred by the power cables.
---
Related Products