IC1078L6WH - ICC Cat 6 EZ Modular Keystone Jack, White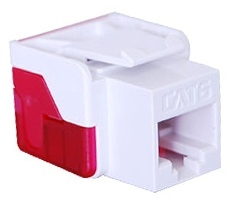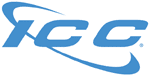 Related Categories
Are you using high performance Cat 6 keystone jacks for your network installation? There is no doubt that the jacks and connectors you use in your network installation can make or break your networks performance. The ICC IC1078L6WH EZ Cat 6 keystone jack ensures superior performance and reliability in high speed Gigabit Ethernet network installations!
The ICC IC1078L6WH EZ Cat 6 Keystone Jack is used to create Cat 6 outlets in both residential and commercial network installations. It is designed to snap directly into any standard keystone wall plate, surface mount box, blank patch panel, or decorator style inserts. It is designed with a rear 110 connecting block so you will need a standard 110 punch down tool for installation.
The ICC IC1078L6WH EZ Cat 6 Keystone Jack provides high performance without the high cost. No other Cat 6 jack is easier to install and guarantees to exceed ANSI/TIA/EIA-568-B.2-1 Category 6 connecting hardware requirements. The IC1078L6WH features enhanced crosstalk cancellation that reduces return loss and improves performance by rejecting noise and unwanted signals, and uses an innovative PCB technology that provides maximum performance and superior signal quality. It includes an integrated TIA-568A/B color wiring diagram, and is backwards compatible to all lower rated category components.
Buy the ICC IC1078L6WH EZ Cat 6 Keystone Jack from an Authorized Stocking Distributor like Cabling Plus!
Includes: (1) White IC1078L6WH ICC Cat 6 EZ Modular Keystone Jack
CAT 6 rated connectors provide excellent performance for data networks requiring maximum speed and bandwidth
PCB technology provides maximum performance and superior signal quality
Enhanced crosstalk cancellation reduces return loss and improves performance by rejecting noise and unwanted signals
Exceeds ANSI/TIA/EIA-568-B.2-1 Category 6 connecting hardware requirements
Designed with in-line 110 IDC, in-sequence termination reducing termination time
One piece termination cap allows for a quick and easy termination
Includes an integrated TIA-568A/B color wiring diagram
Backwards compatible to all lower rated category components
Available in almond, black, blue, gray, green, ivory, orange, purple, red, white, and yellow
Installation instructions included
UL listed
Part#: IC1078L6WH
---
Related Products