IC1078E5BK - ICC Cat5e EZ Modular Keystone Jack, Black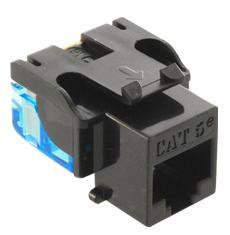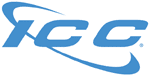 Related Categories
The IC1078E5BK Black EZ Cat5e keystone jack is an 8-position 8-conductor (8P8C) female RJ45 connector that is engineered to provide superior performance and reliability, supporting up to Gigabit Ethernet applications. The advanced design of the IC1078E5BK provides optimum signal quality with up to 10dB headroom providing maximum bandwidth for high speed data applications. Designed to be extremely easy to terminate, the ICC jacks simplify installations which improves overall installation time. The IC1078E5BK Black EZ Cat5e keystone jack is designed for use with both plenum and non-plenum Cat5e cable types used in network installations.
The ICC IC1078E5BK Cat5e keystone jacks are simple to terminate and are 100% guaranteed to exceed Cat5e industry performance requirements. Put your trust in the premium Cat5e keystone jacks offered by Cabling Plus! Don't make the mistake of using no-name no-brand Cat5e keystone jacks that could easily make your network under-perform!
For the best installation results use the ICC Classsic Keystone Wall Plates or Decora Inserts and Faceplates with the IC1078E5BK Black EZ Cat5e keystone jacks!
Includes: (1) Black IC1078E5BK ICC EZ Cat5e Keystone Jack
CAT 5e rated connectors provide excellent performance for data networks requiring maximum speed and bandwidth
PCB technology provides maximum performance and superior signal quality
Enhanced crosstalk cancellation reduces return loss and improves performance by rejecting noise and unwanted signals
Exceeds Category 5e industry performance requirements
Includes an integrated TIA-568A/B color wiring diagram
Backwards compatible to all lower rated category components
Available in almond, black, blue, gray, green, ivory, orange, purple, red, white, and yellow
Installation instructions included
UL listed
Part#: IC1078E5BK
---
Related Products