HTC-11G28DID - Hunt Outdoor Infrared Dome Camera, 2.8-10mm Lens, 580 TVL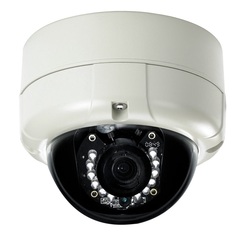 Related Categories
The Hunt Electronic HTC-11G28DID is an outdoor vandal proof dome camera with on-board infrared LED's, 2.8-10mm varifocal auto-iris lens, 580 lines of resolution. The 12 on-board infrared LED's allow the camera to provide high quality video up to 80ft in total darkness. The HTC-11G28DID is both water-resistant and vandal proof to protect the cameras in the most extreme environmental conditions. 
The Hunt Electronics HTC-11G28DID 580TVL Outdoor Varifocal IR Dome Camera has a 3-Axis design that allows the camera to be ceiling or wall mounted. Once mounted you have the flexibility to point the camera in any 180 degree position. The HTC-11G28DID is simple to mount, fast to program, and has power and BNC pigtails to support the required connections.
The HTC-11G28DID features Automatic Auto Gain Control, Auto White Balance, Automatic Back Light Compensation, Varifocal Auto Iris Lens, Aperture Correction, and a 1"3" CCD Image Sensor.
Includes: (1) HTC-11G28DID 560TVL Outdoor Varifocal IR Dome Camera 
Pick Up Device: 1"3" CCD Image Sensor
Image Size H x V mm: 3.64x4.82
Picture Elements (High Resolution): NTSC 771H x 494V - PAL 753H x 582V
Horizontal Resolution: 580TVL
H. SYNC. Frequency: NTSC 15.734 KHz/60Hz, PAL 15.625 KHz/50Hz
Clock Frequency: NTSC 28.636 Mhz, PAL 28.5 Mhz
Sensitivity D/N: 0.1 Lux (Day Light), 0.0 Lux (w/IR LED on)
Day/Night: Normal image, D/N CDS auto switch
IR Ray: Sensitive IR wave 850~940nm
IR LED: 12 IR LED
Auto Iris Lens: 2.8~10mm auto iris w IR cut filter
Water Resistance: IP 66
Synchronization: Internal
Scanning System: 2:1 Interlace
Auto Gain Control: Automatic
S/N Ratio: More than 48db
Electronic Shutter: 1/60~1/100,000 NTSC, 1/50~1/100,000 PAL
Gamma: 0.45
Video Out: 1Vp-p, 75Ohms composite
Aperture Correction: 2H mode enhancement
Power Supply: 24VAC/12VDC
White Balance: Auto Tracing white Balance
Back Light Compensation: Automatic
Dimension mm: 97ø x 137
Weight: 700g
Storage Temperature: -30°C to + 60°C
Operation Temperature: -10°C to + 45°C
Part#: HTC-11G28DID