HTC-96G28DID - Hunt 960H Outdoor Infrared Dome Camera, 2.8-10mm Lens, 700 TVL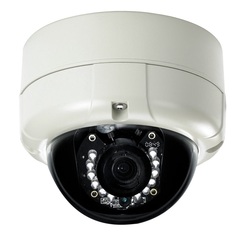 Related Categories
The Hunt Electronic HTC-96G28DID is an outdoor vandal proof dome camera with on-board infrared LED's, 2.8-10mm varifocal auto-iris lens, 700 lines of resolution. The 32 on-board infrared LED's allow the camera to provide high quality video up to 100ft in total darkness. The HTC-96G28DID is both water-resistant and vandal proof to protect the cameras in the most extreme environmental conditions. It features the new 960H technology that delivers the highest resolution imagery with the most detail. The HTC-96G28DID also uses Wide Dynamic Range technology to ensure the sun or any other bright lights will not hinder its performance.
The Hunt Electronics HTC-96G28DID 700TVL Outdoor Varifocal IR Dome Camera has a 3-Axis design that allows the camera to be ceiling or wall mounted. Once mounted you have the flexibility to point the camera in any 180 degree position. It is simple to mount, fast to program, and has power and BNC pigtails to support the required connections.
The HTC-96G28DID features Automatic Auto Gain Control, Auto White Balance, Automatic Back Light Compensation, Varifocal Auto Iris Lens, Aperture Correction, and a 1"3" 960H CCD Image Sensor.
Image Sensor: 1/3" 960H Color CCD
TV System: NTSC / PAL
Pixels: NTSC = 976 (H) x 494 (V), PAL = 976 (H) x 582(V)
Lens: DC2.8 - 12mm Auto Iris Lens
Scanning System: 2: 1 Interlaced
Sync System: Internal
Resolution: 700TV Line (Horizontal)
Min. Illumination: 0.0001 Lux (SENSE-UP: X256)
S/N Ratio: More than 52 dB
White Balance: ATW/ AWB/AWC-SET/MANUAL
Gamma Characteristic: 0.45/0.55 Support CRT / LCD Monitor
Video output: 1.0Vp-p 75 ohm Composite
Electronic Shutter Speed: PAL : 1/50 ~ 1/100,000 Sec, NTSC: 1/60 ~ 1/100,000 Sec
OSD: BUILT-IN
D-WDR: LOW / Middle / High / Off Selectable
BLC/HSBLC: LOW / Middle / High / Off Selectable
AGC: LOW / Middle / High / Off Selectable
Day / Night: Color / BW / AUTO / EXT Selectable
SMART NR: On / Off Selectable
LSC (Lens Shadding): On / Off Selectable
Motion Detection: On / Off (4 Programmable Zone)
Privacy Masking: On / Off (8 Programmable Zone)
DPC: On / Off Selectable
Sharpness: Level Adjustable
Contrast: Level Adjustable
Display: CRT / LCD / User Selectable
D-Zoom: On / Off (X32)
Smart D-Zoom: On / Off (X5)
DIS: On / Off Selectable
Sense-Up: On / Off (X256)
Defect: Freeze / Mirror / D-Zoom / Neg. Image
Power Supply: 12VDC & 24VAC Optional
Power Consumption 300mA (12VDC & 24VAC)
Part# HTC-96G28DID