ZM-L35T - Ganz 3.5" Portable CCTV Test Monitor with Multimeter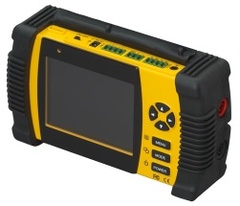 Related Categories
The Ganz ZM-L35T 3.5" Portable CCTV Test Monitor with Multimeter combines a video test monitor with six essential CCTV function, all in a compact design with rechargeable lithium ion battery. The ZM-L35T gives you a complete device for ensuring success in a security camera installation. It features a 3.5" LCD screen, PTZ testing capabilities, video level measurement, audio testing, short circuit testing, and a video pattern generator. The Ganz ZM-L35T test monitor is compact, easy to use, and simplifies security camera installations.
The Ganz ZM-L35T 3.5" Portable CCTV Test Monitor with Multimeter includes carrying case, monitor guard, terminal blocks, battery pack, AC adapter, meter probes, BNC connection and RCA connection video cable, necklace, belt, and hand link.
NOTE: Before using the ZM-L35T test monitor for the first time, please charge the battery for at least 5 hours to make sure that the battery is fully charged. This will extend the usage life of the battery. After the initial charge, the ZM-L35T battery should only require charging for about 2~3 hours in order to be charged fully. This should provide enough power to use the device for about 5~6 hours. Battery life should allow recharging about 250 times, depending on the environment and amount of operation. Please follow the correct charging method in order to extend the life of the battery.
Includes: (1) ZM-L35T 3.5" Portable CCTV Test Monitor with Multimeter
3.5" LCD screen
5~6 hours of operation between charges
Measures 20~250 VAC and 0~45 VDC
Pelco P & D protocol for PTZ testing
0~2Vpp video level measurement
Built-in speaker for audio testing
Open or short circuit cable test feature
Video pattern generator
Includes wrist strap, protective case and AC adapter
Includes audio, video, and voltage text cables
Certifications: UL, FCC, CE, RoHS
Part#: ZM-L35T