PT110N - Ganz Indoor Vandal Resistant 10X PTZ Dome Camera, 500TVL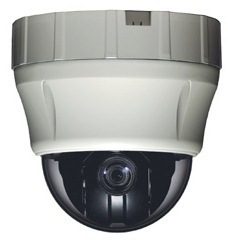 Related Categories
The Ganz PT110N is a fully programmable indoor vandal resistant 10X PTZ dome camera. It is ideal for both residential and commercial surveillance applications. It supports 10X digital zoom, 10X optical zoom, and provides an endless 360 degree pan rotation. The PT110N allows you to use its high speed pan, tilt, and zoom motion to secure even the toughest areas. Plus its True Day and Night feature ensures high quality surveillance video in low light environments! 
The PT110N features Vector drive technology, 127 preset positions, built in Pelco P & D protocols, auto & manual focus control options, and true day & night capabilities. It has a 24VAC power requirement, and the ability to be pendant, wall, and flush mounted.
The Ganz PT110N Indoor Vandal Resistant 10X PTZ Dome Camera offers 500 lines of resolution, with a 3.8 to 38mm, F1.8 focal length lens. It will easily incorporate into any new and existing CCTV surveillance systems. Plus it is compact, fast, and vandal resistant!
To wall mount the PT110N use the WMK3 wall mount bracket. For flush mounting use the FMK3 flush mount kit. All mounting products are available here at Cabling Plus!
The Ganz PT110N Indoor 10X PTZ Dome Camera has a 2 year warranty when bought from an Authorized Ganz Distributor like Cabling Plus!
Includes: (1) PT110N Indoor Vandal Resistant 10X PTZ Dome Camera
500TVL 
1/4" Interline Transfer CCD
3.8~38mm, F1.8 Focal Length
Vector drive technology ("shortest path" pan/tilt motion)
Optimum accuracy with Micro-Stepping motor control
Zoom-proportional pan/tilt speed
Fast maximum panning speed (360°/sec)
Ultra slow manual speed (Min 0.05°/sec)
Low noise & low vibration
Endless 360°/sec Pan Rotation
100X zoom control (Optical 10X, Digital 10X)
True Day/Night (retractable IR cut filter)
Auto & manual focus control options
127 preset positions with alpha-numeric labels
4 pattern, 8 swing, and 8 group functions
4 privacy zones (Spherical coordinates)
Auto-flip feature
Auto-parking (reverts to pre-programmed preset positions, swing, or pattern if no action)
Power up memory (resumes to all pre-programmed functions upon power-up)
On-screen display with pan/tilt, zoom, and compass
Built-in alarm sensor in function
24VAC Power input
Compact / vandal-resistant
Pelco P & D Protocol ready
Compatible with 4S Double Gang Box
Optional smoked dome cover available (DCS3)
Part#: PT110N