LPC1260 - Ganz License Plate Recognition Camera, 600TVL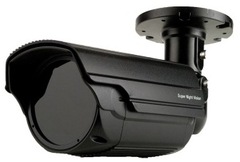 Related Categories
The Ganz LPC1260 600 TVL License Plate Recognition Camera is an all-in-one system integrating a camera, lighting, filter, lens and electronic synchronization control into a single enclosure. The LPC1260 was designed to capture license plates 24/7, in all lighting conditions and up to speeds of 30MPH. The LPC1260 is a 600TVL black and white camera that provides clear, high quality images.
Capturing license plate images that can be used as evidence has always been a challenge for standard CCTV cameras. Often, the license plate is obscured by reflections from the sun or from headlights, making the video footage virtually useless. The LPC1260 ensures that all requirements are met with the end results being high quality video.
The LPC1260 is pre-calibrated and tested and features a unique cabling and power system for simple and quick installation. It is dual voltage (12VDC or 24VAC) and features a compact, IP67 housing designed to withstand the toughest environmental elements.
The Ganz LPC1260 600 TVL License Plate Recognition Camera has a 3 year warranty when purchased by an Authorized Ganz Distributor like Cabling Plus!
Includes: (1) LPC1260 600 TVL License Plate Recognition Camera
24-hour plate capture
Captures plates at speeds of up to 30mph and range up to 60'
No sunlight or headlight glare
No motion blur
Stylish, compact all-in-one unit
Image Sensor: 1/3"B/W Sony Ex-View CCD
Minimum Illumination: 0 Lux
Gamma Correction: 0.45
Shutter speed: 1/1,000sec
Gain Control: Standard : 0dB ~ 34dB Auto
Smear Effect: 0.01%
IR Spectrum: 850nm (High-Power IR LED): Ø8 - 22ea
IP67 for all weather condition
Power Source: 24VDC/24VAC
Power Consumption: 300mA (Normal) ~ 500mA (Max) ADJ
Construction/Finish: Black powder coated aluminum
Mount: Aluminum feed through wall mount
Sunshield: Standard
Certifications: Meets NEMA Type 4, IP67
Part#: LPC1260