DR8HV-500 - Ganz Digimaster 8 Channel H.264 Security DVR, DVD, 500GB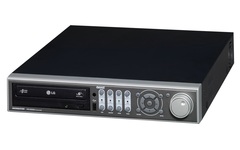 Related Categories
The Ganz Digimaster DR8HV-500 is a high performance 8 channel H.264 networkable digital video recorder. It is designed for residential and commercial surveillance applications. It comes with a 500GB hard drive, DVD writer, 240 FPS recording, PTZ control, and video access through mobile devices. The DR8HV-500 allows you to capture high quality surveillance video that can be stored, monitored, and downloaded. The DR8HV-500 is network ready and includes a simple to use remote software so you can view your cameras and manage the DVR from any computer in the world! The Ganz DR8HV-500 supports iPhone, iPod Touch, iPad, and Android applications so you can have your valuable surveillance video right in the palm of your hand. It includes a power adapter, mouse, remote controller, remote agent software, and instruction manual. No other security DVR on the market is more durable or more powerful.
The Ganz Digimaster DR8HV-500 is manufactured by CBC America Ganz, a recognized leader in the surveillance product industry. It is simple to set up, easy to manage, and includes all the software needed pre-loaded on the hard drive. The DR8HV-500 software is simple to use and allows you to quickly manage all the DVR's vital features. Popular features of the DR8HV-500 include video archive to CD, DVD, or USB, remote access, BNC & VGA outputs, motion detection, health monitoring, panic recording, alarm control, screen division, and search modes.
The Ganz Digimaster DR8HV-500 is ready to go to work right out of the box!
Use the Mobile Surveillance App for the Ganz DR8HV-500 Digimaster DVR!
GanzView Lite is a mobile surveillance application that allows live video streaming from Ganz Digimaster H.264 DVRs to your iPhone, iPod Touch, iPad, and Android. It provides single channel or 4-channel access via live video streaming and allows home or business monitoring from anywhere. The GanzView Lite is compatible with iPhone 3GS, iPhone 4, iPod Touch (3rd generation), iPod touch (4th generation) iPad and Android.
GanzView Lite is available for download on iTunes and on the Android Market.
Includes: (1) DR8HV-500 H.264 8 Channel Video Recorder with DVD Writer
8 channel DVR
Efficient H.264 compression
240ips recording
High Resolution up to 704 x 480 (D1), 704 x 240 (2 CIF), 352 x 240 (CIF)
Remote access via network / LAN
Archive to CD / DVD / USB Drive
Video access through mobile devices
DVD writer standard
Supports most PTZ protocols, includes 255 presets
USB mouse, front button, remote controller & keyboard controller
Video Output: DVI, BNC, VGA
Simultaneous Live / Record / Playback / Archive / Network
Certifications: CE & FCC & MIC & WEEE, RoHS
Part#: DR8HV-500