DVR-LB1 - VMP Digital Video Recorder (DVR) Lock Box with Fan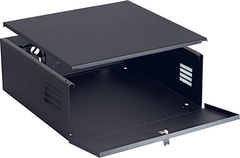 Related Categories
The VMP DVR-LB1 is a premium DVR lock box used to protect surveillance type digital video recorders (DVR) while at the home or business. The DVR-LB1 has been designed specifically for the peace of mind of those who require DVRs to be installed in specific settings that may be prone to theft or vandalism. Using a DVR lock box is the best solution for protecting the investment you have made in surveillance equipment.
The DVR-LB1 features a built in fan, interlocking lift off lid, key locked hinged door, and cable knockouts to provide cable management. This is the perfect DVR lock box product for use in any residential or commercial surveillance applications.
With the DVR-LB1 DVR lock box you have the ability to use it as a standalone unit, or you can wall or rack mount it. For wall mount applications we recommend you use the VMP DVR-WA wall mount arms.
Includes: (1) DVR-LB1 DVR Lock Box Lock Box with Fan
Interior dimensions 21" W x 21" D x 8" H
Vented and includes fan for additional ventilation
Interlocking lift off lid
Key locked hinged front door
Black static resistant powder coat finish
Part#: DVR-LB1
---
Related Products