V3363D - Digital Watchdog Vandal Proof Dome Camera, Varifocal, 600 TVL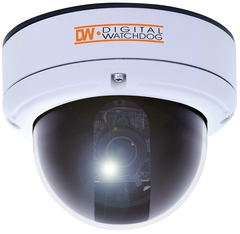 Related Categories
The Digital Watchdog V3363D high resolution 600 TVL vandal proof outdoor dome camera is designed to support outdoor critical surveillance applications. The V3363D ensures excellent color sensitivity and high resolution in both day and night applications. This camera is part of the Digital Watchdog Starlight Series, which offers super low light imaging for any application. The V3363D offers a unique Digital Slow Shutter feature that increases the length of time the shutter remains open to collect additional ambient light, illuminating typically dark environments. The V3363D is a feature rich dome camera that includes Highlight Masking Exposure, Back Light Compensation, Automatic Gain Control, 3D Digital Noise Reduction, 3X Digital Zoom, and Auto White Balance control.
The V3363D features a 1/3" Sony Super HAD II CCD, 3.3-12mm Varifocal Auto Iris Lens, and 24VAC / 12VDC auto sensing.
The Digital Watchdog DWC-V3363D includes a 5 year warranty when purchased from an authorized distributor like Cabling Plus!
Includes: (1) DWC-V3363D 600 TVL Vandal Proof Door Dome Camera
1/3" Sony Super HAD II CCD
600 TV Line
3.3-12mm Varifocal Auto Iris Lens
3D-DNR (3D Digital Noise Reduction)
DRC (Dynamic Range Compressor)
HME (Highlight Masking Exposure)
3X Digital Zoom
Negative Imaging
Auto Sensing 24VAC / 12VDC with Line Lock
AGC (Auto Gain Control)
BLC (Back Light Compensation)
AWB (Auto White Balance)
12VDC Power Consumption: 1.96W
24VAC Power Consumption: 2.2W
Part#: DWC-V3363D
---
Related Products