DWC-PTZ39X - Digital Watchdog 39X Super Speed Dome PTZ Camera, 560 TVL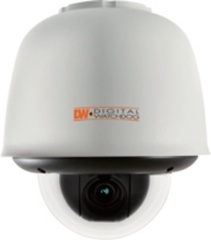 Related Categories
The Digital Watchdog DWC-PTZ39X is a high performance, Super Speed Dome PTZ Camera that features a 39X zoom lens and the Digital Watchdog innovative Star-Light technology. It is designed for outdoor surveillance applications, which means the external housing will protect the camera from extreme weather conditions and possible vandalism. The housing also includes a built-in heater and blower to support the hottest and coldest environments. The DWC-PTZ39X gives you complete control to Pan, Tilt, and Zoom the camera in any direction, which allows you to secure even the toughest areas of a home or business. It provides a full 360 degree motion so no areas are left unsecured. The DWC-PTZ39X is perfect for both residential and commercial CCTV applications.
The Digital Watchdog DWC-PTZ39X 560TVL 36X Super Speed Dome PTZ Camera provides a 39X optical zoom, and a 12X digital zoom with auto focus. The included Star Light Technology provides excellent video quality in low light environments. Plus the DWC-PTZ39X includes Wide Dynamic Range technology, which ensures that bright lights from the sun or from passing cars will not hinder the cameras video quality.
The DWC-PTZ39X includes Vector Drive Technology, Digital Slow Shutter, 3D Digital Noise Reduction, Digital Image Stabilizer, Highlight Masking Exposure, Back Light Compensation, Auto White Balance, RS485 Communication, 7 Rules of Time and Day Schedule, 127 Preset Positions, 8 Privacy Zones, 4 Patterns of Camera Trajectory, Easy Icon Driven OSD Menu with Built-in Joystick, and more…
The PTZ39X is available with a wide range of mounting options. You must include the DWC-P39WM, DWC-P39PM, or DWC-P39SPM mounting bracket in your installation. These brackets house the connections you need to correctly attach cables to the camera. One of these mounting brackets must be used in the installation. By housing the connections inside the mount you have easier access to all of your connections. This ensures a faster installation with easier camera maintenance.
The Digital Watchdog DWC-PTZ39X 560TVL 36X Super Speed Dome PTZ Camera includes a 2 year warranty when purchased by an authorized distributor like Cabling Plus!
Includes: (1) DWC-PTZ39X 560TVL 39X Super Speed Dome PTZ Camera
1/4" EX-View HAD PS CCD
560 TV Lines
39X Optical Zoom
12X Digital Zoom with Auto Focus
Auto Day and Night with IR Cut Filter
Pan 0 ~ 360 Degrees Endless
360 Degrees Per Second Pan Speed
Vector Drive Technology: Pan/Tilt Motion in Shortest Path
WDR (Wide Dynamic Range)
Star-Light (Super Low Light Technology)
DSS (Digital Slow Shutter)
3D-DNR (3D Digital Noise Reduction)
DIS (Digital Image Stabilizer)
HME (Highlight Masking Exposure)
AGC / BLC / AWB
RS485 Communication
7 Rules of Time and Day Schedule
127 Preset Positions
8 Privacy Zones
4 Patterns of Camera Trajectory
8 Alarm Sensor Input and 4 Relay Output
Easy Icon Driven OSD Menu with Built-in Joystick
Vandal Proof, Weather Proof
IP66 Certified
Heater and Fan Built-in
Operating Temperature: -10°C ~ 55°C (14°F ~ 131°F)
Power Requirements: AC 24V
Power Consumption: 24 W, HEATER ON: 57 W 1.0 A, HEATER ON: 2.4 A
Dimensions: 10.2 X 21.7 X 15.9 inches
Part#: DWC-PTZ39X
---
Related Products