DWC-V4382TIR - Digital Watchdog Vandal Proof Omni-Plus IR Dome Camera, 600TVL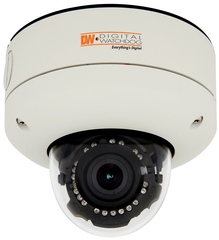 Related Categories
The Digital Watchdog Snaplit DWC-V4382TIR is a 600TVL vandal proof, true day and night, wide dynamic range dome camera designed for mission critical outdoor surveillance applications. The DWC-V4367WTIR features a 1/3" Sony Super HAD II CCD chip, OMNI-Focus 2.9 - 8.5mm 3X Motorized Zoom lens, and infrared LED's that offer a 50ft range in total darkness. The Wide Dynamic Range (WDR) feature on this camera will make sure areas are secured regardless of any bright light from the sun or passing car headlights.
The DWC-V4367WTIR features the Digital Watchdog OMNI-Plus technology which simplifies field of view adjustment by offering an OMNI-Focus lens which utilizes three lenses to view fore-, mid-, and background as one. This technology ensures total focus at different depths to provide high quality clean video. The DWC-V4367WTIR provides a feature rich high performance camera housed in the new Snapit housing. The Snapit housing simplifies installation and lets you install the camera in just a matter of minutes. It also includes built-in UTP and RS-485 connections so you can better manage and support various wiring methods. The housing on the DWC-V4382TIR is also IP68 rated which means is can combat even the most extreme weather conditions.
Other vital features included with the DWC-V4367WTIR are: OMNI-Focus 2.9~8.5mm 3X Motorized Zoom, Auto Iris, 50ft Range IR with Intelligent Camera Sync, TDN (True Day and Night/TDN5), Star-Light (Super Low Light Technology), EWDR (Electronic Wide Dynamic Range), 3D-DNR (3D Digital Noise Reduction), DIS (Digital Image Stabilizer), HME (Highlight Masking Exposure), SLC (Side Light Compensation), AGC (Auto Gain Control), BLC (Back Light Compensation), AWB (Auto White Balance), Negative Imaging, and Mirror Image Control.
The Digital Watchdog DWC-V4382TIR includes a 5 year warranty when purchased from an authorized distributor like Cabling Plus!
Includes: (1) DWC-V4382TIR 580TVL WDR Vandal Proof Infrared Dome Camera
1/3" Sony Super II HAD CCD
600 TV Lines
OMNI-Focus 2.9 - 8.5mm 3X Motorized Zoom, Auto Iris
50ft Range IR with Intelligent Camera Sync
TDN (True Day and Night/TDN5)
Star-Light (Super Low Light Technology)
EWDR (Electronic Wide Dynamic Range)
3D-DNR (3D Digital Noise Reduction)
DIS (Digital Image Stabilizer)
HME (Highlight Masking Exposure)
SLC (Side Light Compensation)
AGC (Auto Gain Control)
BLC (Back Light Compensation)
AWB (Auto White Balance)
Negative Imaging
Mirror Image Control
UTP / RS485 Built-in
Junction Box Built-in
Programmable Privacy Zone (6) & Motion Detection
Easy Icon Driven OSD Menu with Built-in Joystick
Auto-Sensing 24 VAC / 12 VDC with Line Lock
Secondary Video-BNC Output
IP68 Certified
Power Consumption: LED OFF: 2.1W, 175mA / 2.2W, 91.7mA LED ON: 4.5W, 375mA / 4.6W, 191.7mA
Certifications: CE, FCC, RoHS
Part#: DWC-V4382TIR
---
Related Products