DWC-D4367WD - Digital Watchdog Wide Dynamic Indoor Dome Camera, 600TVL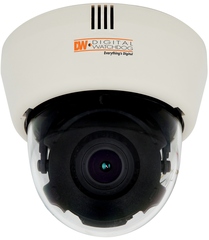 Related Categories
The Digital Watchdog DWC-D4367WD is a super high resolution 600TVL indoor dome camera that features Wide Dynamic Range technology, and a 3.3 to 12mm varifocal auto iris lens. The Wide Dynamic Range technology ensures high quality surveillance video is always captured regardless of any intense back lights in an area. This feature is very popular for use in businesses or homes where sunlight or even car lights are prominent. The WDR feature will enable the capture and display of both bright and dark areas in the same frame, in a way that there are details in both areas. The DWC-D4367WD will never allow bright lights to hinder its performance or video quality.
The DWC-D4367WD includes the new Digital Watchdog Snapit housing with a built in UTP balun which allows the ability to install a camera in a matter of minutes. It also features the Infinity Technology which bundles up Star Light Technology, Wide Dynamic Range Technology, and Digital Image Stabilizer Technology into one powerful high resolution camera.
Other vital features included with the DWC-D4367WD are: Electronic Day and Night, Star-Light (Super Low Light Technology), 3D-DNR (3D Digital Noise Reduction), EWDR (Electronic Wide Dynamic Range), DIS (Digital Image Stabilizer), HME (Highlight Masking Exposure), SLC (Side Light Compensation), AGC (Auto Gain Control), BLC (Back Light Compensation), AWB (Auto White Balance), Negative Imaging, Mirror Image Control, UTP / RS485 Built-in, Programmable Privacy Zone (6) & Motion Detection, and Easy Icon Driven OSD Menu with Built-in Joystick.
The Digital Watchdog DWC-D4367WD includes a 5 year warranty when purchased from an authorized distributor like Cabling Plus!
1/3" Sony Super HAD II CCD
600 TV Lines
3.3~12mm Varifocal Auto Iris Lens
Electronic Day and Night
Star-Light (Super Low Light Technology)
3D-DNR (3D Digital Noise Reduction)
EWDR (Electronic Wide Dynamic Range)
DIS (Digital Image Stabilizer)
HME (Highlight Masking Exposure)
SLC (Side Light Compensation)
AGC (Auto Gain Control)
BLC (Back Light Compensation)
AWB (Auto White Balance)
Negative Imaging
Mirror Image Control
UTP / RS485 Built-in
Programmable Privacy Zone (6) & Motion Detection
Easy Icon Driven OSD Menu with Built-in Joystick
Auto-Sensing 24 VAC / 12 VDC with Line Lock
Secondary Video-BNC Output
Part# D4367WD