BL5363TIR - Digital Watchdog Outdoor 3-Axis Ball Camera, Varifocal, 560 TVL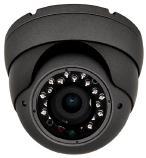 Related Categories
The Digital Watchdog BL5363TIR is a high resolution 3 axis ball camera designed for extremely low light surveillance applications. The BL5363TIR is a weather resistant camera that ensures excellent color sensitivity and high resolution in both day and night applications and offers extreme low light capability with its Star-Light Technology. During the day, the camera produces a crisp 560 TVL color image; and during the night, the camera switches to black-and-white mode, removes the IR cut filter, and illuminates the scene up to 65 feet without added lighting. The True Day & Night function of this camera provides 24/7 high quality surveillance video! The BL5363TIR also features 3D Digital Noise Reduction, Highlight Masking Exposure, Back Light Compensation, and Auto White Balance control.
The BL5363TIR features a 1/3" Sony Super HAD II CCD, 2.8-11mm Varifocal Auto Iris Lens, and offers 24VAC / 12VDC auto sensing. The 3-axis ball design of the BL5363TIR gives you complete flexibility to mount it almost anywhere!
The Digital Watchdog DWC-BL5363TIR includes a 5 year warranty when purchased from an authorized distributor like Cabling Plus!
Includes: (1) DWC-BL5363TIR 560 TVL Vandal Proof 3-Axis Ball Camera
1/3" Sony Super HAD II CCD
560 TV Line
2.8-11mm Varifocal Auto Iris Lens
Easy Icon Driven OSD Menu
65ft Range IR with Intelligent Camera Sync
3D-DNR (3D Digital Noise Reduction)
DRC (Dynamic Range Compressor)
TDN (True Day and Night/TDN5)
HME (Highlight Masking Exposure)
32X Digital Zoom
Secondary Video-BNC Output for Easy Installation
Auto Sensing 24VAC / 12VDC with Line Lock
AGC (Auto Gain Control)
BLC (Back Light Compensation)
AWB (Auto White Balance)
No Fog or Condensation under Any Weather Condition
12VDC Power Consumption: 1W LED Off; 2.2W LED On
24VAC Power Consumption: 2.2W (LED OFF), 3W (LED ON)
Part#: DWC-BL5363TIR