HFX-700M - Comelit Hands-Free Expandable Color Video Intercom Kit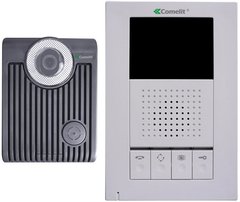 Related Categories
The Comelit HFX-700M is a professional grade hands-free video intercom kit that adds luxury and security to the doors and gates of any home or business. The HFX-700M is video intercom kit allows you to fully control your front, back, or any other doorways so you can see who is outside before you actually open the door. It also gives you full control to open gates and doors with a simple push of a button. This complete kit is simple to install, takes a simple 2 wire installation, and includes everything you need for a successful installation!
The HFX-700M is a complete kit that includes an indoor door station, and weatherproof doorbell camera station. The kit gives you everything you need for a simple plug and play installation. The HFX-700M is a great security add-on so you can easily increase security measures at a business or a residential location. It offers full color video, clear voice communication, and the ability to expand up to 4 total monitor stations and 2 doorbell stations. Add a device to every entryway and you are set!
Did you know the majority of criminals like to knock on a front or back door before entering a location? Having the ability to see who is outside and communicate with a visitor is ideal for increased security measures. The HFX-700M kit will allow you to also push a button to activate the camera, and push a button to activate talk. Now you can see, view, and communicate with anyone at the door prior to opening it. How is that for increased security?
Included: (1) HFX-700M Hands Free Color Master Monitor Kit
Expandable up to 4 monitors and 2 doorbell cameras
Simple 2 wire installation (CAT5e to 18AWG multi-conductor cable)
3.5 inch LCD color monitor
1/3 inch CCD chipset
Camera angle adjustable horizontally
White LED illuminator
Weather resistant plastic doorbell housing
Remote door release (12VDC or N.O. contact)
Adjustable speaker, microphone, and chime volume
Monitor Resolution: 320 x 240 pixels
Camera Resolution: 250,000 pixels (NTSC)
Power Consumption: standby 2.1 W, operating 7.8W (max)
Monitor Dimensions (w/bracket): 4.65" (L) x 7.0" (W) x 1.42" (D)
Camera Dimensions (w/brackets): 3.86" (L) x 5.12" (W) x 1.42" (D)
Part#: HFX-700M
---
Related Products