CED1 - Arlington Industries Reversible Scoop Cable Entrance Plate, White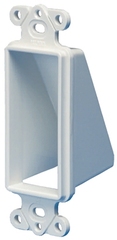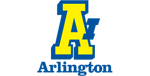 Related Categories
The Arlington Industries CED1 is a decorator style hooded wall plate designed to assist in organizing in-wall low voltage cables while protecting them from being potentially damaged as they pass through the wall. The CED1 is made to fit inside a standard decorator style faceplate and is reversible so you can control the look by having the hooded scoop point outward from the wall or inward into the wall.
The CED1 is will give any home theater installation a professional and organized finish you can be proud of. Install the CED1 to support any commercial or residential home theater or audio video cabling applications.
The Arlington Industries CED1 is designed for use with standard Decora Faceplates used in both residential and commercial low voltage cable installations.
Includes: (1) CED1 Scoop Reversible Cable Entrance Plate
Color: White
Includes mounting screw
Made of non-rusting plastic
Non-metallic
Paintable
Part#: CED1
---
Related Products